Nakia Coleman
event planner , wedding planner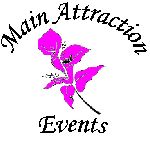 College Park, GA
404-521-8186
mainattractionevents@yahoo.com
"Where EVERY Event is a Main Attraction!"
Welcome to Main Attraction Event Planning! Where EVERY event is a main attraction! Our company strives to give every event the personal touch that it deserves. We offer a variety of services that suit any event that you have in mind. From weddings to birthday parties, we are prepared to meet your every expectation with any event. We take all of the worries away from planning your event. You can be as involved as you like with the process. It is all up to you.
Main Attraction Event Planning was formed with the idea in mind that every event SHOULD be a main attraction. After being solicited to plan various events both locally and nationally we decided to make event planning a career. Vicki C. Tucker and Nakia T. Coleman formed Main Attraction events because of their passion for the planning process. They have years of experience planning any size event, from the smallest dinner to the largest wedding. They are experienced event planners that keep the clients ideals in mind. Please see our Photo Gallery for a sneak peak of what we have to offer.
Services
Main Attraction Event Planning offers a wide variety of services.

Event planning includes budgeting, establishing dates and alternate dates, selecting and reserving the event site, acquiring permits, and coordinating transportation and parking.

Event planning also includes some or all of the following, depending on the event: developing a theme or motif for the event, arranging for speakers, coordinating location support (such as electricity and other utilities), arranging decor, tables, chairs, tents, event support and security, police, fire, portable toilets, parking, signage, emergency plans, health care professionals, and cleanup.

Please contact us for more information regarding rates and services.
Testimonials
Hi Nakia & Crew, I just wanted to say, "GREAT JOB!" to you, your mom & your whole crew who helped in putting last week's show together. Thank you so much! I enjoyed working with you & your team, because everything was well-organized! Thank you for having seperate (private) changing rooms for the ladies & the men! (So necessary!) Thank you to the Designers too, who were greatly accomodating. I enjoyed modeling for the show. I look forward to participating in any future events. Thanks again!
- Ugonna
Nakia and family, Thanks for including me as a vendor. I really enjoyed everything last night. You guys are awesome!!! What a success!!! Very impressive. So much better than last year. Very cool! Keep it going... Looking forward to our next event. Thanks,
Mr Marinelli (lol), I mean Mike...
My wedding was absolutely beautiful! Without the assistance of Nakia and Vickie, everything would not have been so memorable. They were professional, personable and detailed oriented. Most importantly, they were able to listen along with arrange everthing according to my request. Their services are unique and affordable. Anything you could imagine, they thought of along with made certain that my wedding was a special. If you are looking for a team who will ensure that you meet your budget, remain on task and have an eloquent event with class, then, this team can definitely get the job done.
Ailisha and William