Donald Brown
event planner, wedding planner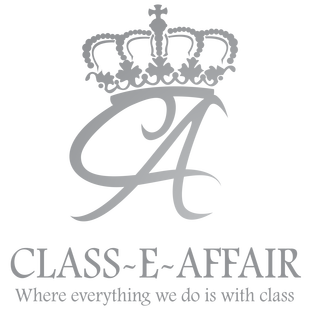 Cincinnati, OH
937-681-1950
Donald.BrownSr@classeaffair.com
Where Everything We Do Is With Class
Class~E~Affair is an event planning company that specializes in fundraisers, private parties, group activities, corporate functions and big extravaganzas. We are a company and brand that understands that by ourselves we couldn't do everything we wanted to accomplish, but together we could do amazing things. We pride ourselves in learning from the past, living in the present and foreseeing what events will be exciting in the future. Our collective minds and our aptitude to adapt to any situation has allowed us to take what we have learned separately and combine them into the company that you see before you today. We see each event as a lifestyle that is maintained through experience, balance and relationships that we build each and every day.
Our company is built on this foundation and as the name states, "Where Everything We Do is with Class."
Donald Brown Sr. is the CEO/Founder of what is the premier event planning company in the Tri-state area. Donald began planning events while in college starting small with a few parties at local college venues, but upon graduation has pursued other opportunities ranging from working in the financial field to becoming a teacher. Following a brief conversation with his cousin Mick Dejene CEO/Founder of MVP Dynasty he was able to return to his true passion and in doing so raised the bar for event planning. Donald graduated from Urbana University in 2005 with a degree in Business Marketing. He has assisted local high schools in securing funding to purchase new athletic uniforms, anniversary parties, graduation parties and working with his church to organize different community projects like an Easter egg hunt for children to a family picnic. By bringing new concepts to the Tri-state and partnering with different individuals, Class~E~Affair continues to impact the event planning industry. In succession of this venture Donald has also founded LTTB (Life Taught Through Basketball) which has to deal with helping young basketball players understand how life and basketball go hand and hand. Also he is in the works of starting a foundation that would again work with the youth to help them realize the importance of not only obtaining an education, but also to realize how the actions they take today can make a huge bearing on their futures.
Services
We are hosting events whether it is for our favorite non-profit/foundation or just for a local organization that has acquired our services. Looking to plan an event and not sure where to start Contact us and give us some details of what you are looking for and allow us to turn your imagination and dreams into reality.
All Upcoming Events Listing by Area:
1. Dayton
2. Cincinnati
3. Columbus


Some questions you should ask yourself:

Why Hire an Event Planner?
In the past, many have thought that hiring an event planner was an extravagance only meant for the elite. After all, why spend money for something you could "do yourself"? Today, however, times have changed. The costs and complexity of planning an event of any nature, whether it be a small gathering, a birthday party or even a wedding, have many people turning to an event planner. An event professional not only saves time and emotional stress, but they can actually save money. This is possible because:

What is your time worth?
Do you have XX amount of hours per week to devote to planning your event? Think of it in dollars. How much do you make hourly at work? Now, multiply that with the mass amount of hours you'll need to spend researching, planning, and working to make your event happen. It adds up, and it will likely be a high enough figure to enlist someone else to plan your event, so you can spend those hours doing something else.

Professional event planners have already done this hundreds, if not thousands, of times. They know the best vendors in the area that will best meet your vision and your budget. Therefore, it will take them far less time to gather the information you need to make your decisions.

Emotional stress is impossible to escape when you're planning an important event all on your own. You have to juggle a lot of balls, all at once, and keep everything else in your life going at the same pace. However, when you hire an event planner – they take all those balls from you, so you can focus on your job, your family, or whatever else you have going on. This means you'll be calmer, more focused, and able to really enjoy the event when it finally arrives.

Do You Think You Can Plan Your Event?
We realize that everyone's needs and visions are different. That is why we listen to you! We custom design your event to fit your needs, style, and budget. For example, you may find along the way that with your busy schedule, and never ending commitments, you don't have the time, and you need CA to step in and assist you with partial planning, which could be just making sure that everything runs smoothly the day of the event, researching specific information for you, or full planning of your event from start to finish. We're here for you – however you need us.

How CA Does It
After an initial meeting where we get to know you, we'll create a profile, gather and research your ideas, and then return to you with a fully focused plan and proposal that has your ideas skillfully implemented. Throughout the entire planning process, you are important to us, so we make sure we're always there for you – only a phone call away.

Why Choose Class~E~Affair Events?
CA Events is a different type of event planning company. We connect with our clients on a personal, individual basis. This connection allows us to truly understand your vision for your event, and once we understand your vision – we figure out how to make it a reality. At CA, your ideas are important to us, and we listen to YOU. When you choose CA Events, you'll be able to make intelligent, educated, and informed decisions throughout the entire process – and at the end, you'll have the event you've dreamed about.




Some reasons to hire an Event Planner


1) You Will Save Money – Event Planners build relationships with suppliers, and they receive discounted rates from vendors that a quality planner will pass on to the client. When you call the same supplier, you are likely to pay their standard rates, which can be higher by as much as 20 percent or more.

2) You Will Save Time – Nobody has enough hours in the day anymore, so why spread yourself too thin doing something that someone else can do for you more efficiently and effectively? Planners thrive on this activity, and they can organize and execute your event in less time than you ever could, allowing you to focus on other responsibilities.

3) Benefit from Their Knowledge/Experience – Over time, Event Planners gain extensive knowledge and wisdom regarding events and parties; they know the latest trends, newest venues, the hot colors, budget-saving secrets and details that you may not be aware of if you plan only one or two events annually.

4) Capitalize on Their Contacts and Resources – A Planner's rolodex is a gold mine. From lighting to décor to power and more, all the right contacts are at their fingertips. No more web-searching required when they can speed-dial the best canopy vendor to serve your location, or obtain a liquor application for a City park. Put their rolodex to work for you!

5) Stress-Free Troubleshooting – Despite all the planning, preparation and management, almost every event inevitably encounters an unforeseen hiccup. You don't want guests aware of this snag and you certainly don't want to appear panicked….This is when you need a Planner at your side because they know who to call and how to remedy a situation quickly. Whether it's a missing limo or a fallen wedding gown hem, your Planner can secure the resources necessary to resolve an issue seamlessly and keep the event on track.

6) Enjoy "One Stop Shopping"
Our company is available to keep you organized, offer advice, manage and coordinate intricate details, and, perhaps most importantly, provide a single point of contact when you have questions or needs. We will also help you create an affordable budget, review all contracts, and make sure that your expectations are met.

7) Experience Peace of Mind
If you are trying to impress clients, raise money, educate colleagues, or just host an enjoyable and memorable event you want to be sure that everything is done right. We are dedicated to ensuring that your event is not only enjoyable and successful, but is as
stress-free as possible. You will not need to spend time worrying about small details and possible problems, allowing you to focus on the guests attending your event.

Hiccups? What Hiccups?
Even with an event planner, there is bound to be an unforeseen hiccup here or there. You don't want your guests aware of this and you don't want to be running around trying to figure it out. An experienced event planner will be there to help smooth those little bumps, no matter whether it's a missing vendor or any misunderstanding, your planner can secure the resources necessary to resolve an issue seamlessly and keep the event on track.

At the end of the day, the right planner will serve as an extension of you. They do all the "heavy-lifting" so that you can be a guest at your party or outing and provide you the opportunity to network effectively to make a favorable impression that will long be remembered by your guests.


- Without the Planner – That's right…you get to deal with all the nonsense instead of enjoying your party!!



Whether you would like a hand to guide you through the entire planning process, someone to pull everything together, or a facilitator to make sure your special occasion or event is flawless, Class~E~Affair Event Planning can assist you. We take pride in providing our clients with the most innovative ideas and latest trends in the industry, making us the clear choice for style-savvy, fun filled events.

Throughout the planning process Class~E~Affair Event Planning will introduce creative ideas. I will negotiate with my network of vendors and resources, and manage and orchestrate the day-to-day details necessary to craft your the vision of your event into reality. Your end result is an event that perfectly reflects your taste and style, and exceeds your highest expectations!

Please contact us to discuss ideas and select the best options for your planning needs.
Testimonials
In the Spring of 2010 the West Carrollton Athletic Department partnered with Class-E-Affair LLC to sponsor a fundraising basketball game in which the funds raised were shared by the West Carrollton Men's Basketball program and Class-E-Affair LLC. The planning, marketing, and game management were all handled by Donald Brown, CEO/Founder of Class-E-Affair LLC. I found Mr. Brown to be very professional, dependable, and willing to help out in any manner necessary to ensure the success of the event. I highly recommend partnering with Class-E-Affair LLC. Sincerely, Rob Dement Athletic Director West Carrollton School District
Rob Dement - West Carrollton High School AD