Lindsay Vine
event planner , wedding planner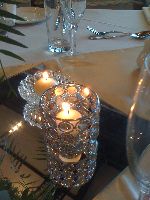 Manchester
Coming soon
lindsayjanevine@gmail.com
Exceeding your expectations, not your budget!
Here at The Grape Vine Events, we cater for Weddings, Corporate functions, Birthday celebrations, themed parties, Christenings, Charity Events and more. Whatever your special occasion we will help you to create a truly memorable event, which your guests will be talking about for years to come. Leave all the planning to us so you get to relax and concentrate on enjoying yourself. After all that is the most important part.
So get in touch today, and let's start planning your event!
In 2006 I graduated from University with a degree in Graphic Design. Having worked hard for 3 years I decided to take a year out and head to Australia to travel. In 2007 I started working in event marketing in Sydney, Australia working with various big named clients. Having been on several corporate retreats, business meetings and award shows, I was always interested in the planning side of such large events to see people's ideas come to life.

Although I did have a successful career winning several awards for customer service, sales, and team building, I realized that although I like working with people and the events side of marketing, I realized this career was not for me.

Then 2 years ago my husband proposed. I straight away set to organizing our wedding and loved every minute of it, and realized that this was the last piece of the puzzle I needed to fit together the three things that for me would make a rewarding career: Customer service, Events and Creativity. This is why Event Planning is perfect for me.

During organizing my own wedding, through a friend I would help out setting up weddings at the weekends to gain some experience. This gave me first-hand experience learning what goes into setting up a wedding on the day of event. So organizing events for me is not stressful, they are fun. I see this as a way of allowing me to be creative. Working towards deadlines is second nature to me. Since University I know that when there is a deadline you get the job done, no excuses! When working in marketing we had to work very long hours to achieve our goals.

As I got married just over a year ago, I know how potentially overwhelming planning a large event can be, especially when you are trying to keep within a budget , keeping track of RSVP's or organizing the entertainment, there is a lot to take on bored. Let me take the stress and anxiety away, so that you can enjoy the build up to your event or wedding.

The cost of an event can quickly spiral out of control, and sticking to a budget is even harder to do when you simply don't have the time to put in the effort that your special event deserves. At The Grape Vine Events, we take the stress away so you can focus on the fun elements of planning an event, such as dress shopping for your wedding, or cake tasting for your birthday celebration.

So know matter now big or small your event, we are here to help.


The Grape Vine Events
Exceeding your expectations, not your budget!
Services
Wedding Planning

Engagement Parties

Corporate Events

Birthday Parties

Halloween Parties

Children's Parties

Retirement Parties

Christmas Parties

New Years Eve Parties

Christenings

Charity functions

Baby Showers

Prom/Gradulation Parties