Kimberly Mayor
event planner, wedding planner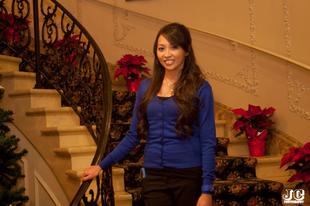 Lindenwold, NJ
856-278-3771
km3.events@gmail.com
Dream...Inspire...Create
Hello everyone! My name is Kimberly Mayor and I am an Event and Wedding Planner. Before I started the Event and Wedding Planning business, I love planning my family and friends parties. They always approach me and ask if I can plan their birthday parties or any kind of events and I quickly say yes. I just love the feeling when everything turns out great the way I expect them to be and just the look on their face that they are happy is good enough for me. I know that they are satisfied with everything and they feel like they don't want their party to end.

My approach is that whenever I plan an Event/Wedding I always think that I am planning my own or in other words, I like to put myself in my clients' situations. Why? because for me it is all about me being happy and I would want my guests to talk about how great my event was whenever they reminisce with their friends. I would also want everything to be perfect. I mean who wouldn't want their events to be perfect?

"Dream..Inspire...Create"
Every girl dream of their perfect wedding day or how they want a certain type of event to happen. When it's about that time to plan these types of event, they try to get an Event or Wedding Planner to make this happen.

This is where my role comes in handy. Before I plan everything, I like to get to know my clients first and listen to what their expectations are. I like to write down important details on what they want to happen and one of their questions would be "Is it possible?" or "Can you make it happen?". To me anything is possible if you just believe. If you can dream it, you can certainly achieve it. Also to me it is all about being inspired. Most of the clients will be on a budget but at the same time they always think of something big and always think they cannot afford it.
What I usually do is I search online or whenever I go out anywhere I always look for something to inspire me. I always say to myself, "Hmm, I think this will work." I either save the image that I see online or I take a picture of something I find anywhere.

Once I find what I am looking for, I create it. To me, I believe that you can always make something out of nothing. I mean, you don't have to start from scratch. What I usually do is, I would search it online and see if they have anything similar to what I am looking for. Of course, it has to be inexpensive since my client is on a budget. Once I see a couple of them, I save a copy and show it to my client for their approval.

Being in an Event and Wedding Planning business, it is all about the client being happy, excited, and turn their dreams into something. I am a perfectionist because who would want their events to be a disaster? While I am planning it, I always think about what my clients are going to see the first time they walk inside the venue. It's always that big smile on their face that make it worthwhile. What more could you ask for?
I am a graduate of Lincoln Technical Institute as an LPN (License Practical Nurse). I am currently working at The Manor at St. Mary's as a waitress. It is an Assisted Living facility where I have been working for 10 years. I have my own experience of being a nurse but as it turns out, it was not for me. I know what your thinking, "So you just wasted your money going to school for it?" Actually I like to think of it as "Don't hate it till you try it." I mean how are we going to know how something is unless you try it right? To me, I always want my own opinion no matter what anyone says.

I am also taking classes as a Master Makeup Artistry in QC. I just love to draw but to tell you the truth, I can't freestyle but I can definitely imitate or duplicate. By next year, I will be going to school at Rizzieri as an Esthetician.

As for my experience, I've done baby/wedding showers, bachelorettes, birthdays, but from mostly friends and family. However, this is way before I even started my classes from QC.

As for photography, every event that I do, I always include my boyfriend as a photographer because he does photography on the side. In my opinion he is very good at what he does and everyone seem to be happy at the results. Like I said, "Don't hate it till you try it."
Services
- Weddings
- Birthdays
- Corporate Events
- Baby Showers
- Bachelorettes
Testimonials
"Kim is a fun event planner. She listens to you and makes sure that everything is perfect."
Michelle
"Kim is a perfectionist. She makes sure that you are happy with the results of the event and never gives up no matter what happens. She's always there when you need her."
Maurie