Vicki Carr
event planner , wedding planner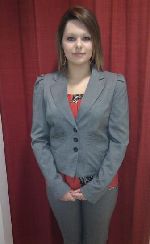 Richmond North Yorkshire
vickicarr1@hotmail.co.uk
Hi I'm Vicki, and I am here to make your wildest dreams reality.

Imagine your perfect event. In fact, let your imagination run wild. I am here to bring your dream events to life.

I can come up with stylish ideas that transform occasions into once in a lifetime events. Exquisite weddings, spectacular parties and mind blowing Christmas events. Every event I plan is distinctive, extraordinary and totally fantastic.

I take care of every detail, working with the best suppliers, responding to your requirements, managing costs without compromising on style, whatever you need, I am here.
I can help with parties and budgets of all sizes and will negotiate the best prices for you.

Time and money are precious and organising a party of any size can be stressful. I am here to save you from all of these and make it an occasion that everyone will remember!


My idea is not to take over your party, in fact I encourage your ideas. I would be your personal party planner and i will ensure you remain in full control, without any worries.

I plan all kinds of parties from Weddings, Children's Birthdays, Adult's Birthdays, Bar Mitzvahs, Anniversaries and even Chirstmas Parties. Whatever you fancy I can plan it. I can help you with as much or as little as you need.
Services
I am here to makes occasions extra special with my unique party ideas and hard planning, whether you want an intimate party at home or a Christmas to remember. I can create a spectacular party for all budgets, themes and tastes, producing one of a kind events fuelled by innovation and attention to detail. Contact me for more information and unique party ideas.

I can do Medieval balls, outdoor street parties, Chirstmas Parties, Weddings, Bar-Mitzvas, Childrens Partys, you name it and I will help make your party a unique party personalised to you. I will work alongside you to create the perfect theme and feel and to ensure that every detail ties in seamlessly, from the invitations to the food.

I can cover the whole of North Yorkshire from Richmond, Darlington, Ripon, York, Middlesboro, Wensleydale ect..