Mary-eve Berteau
event planner , wedding planner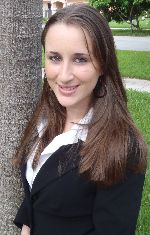 Deerfield Beach, FL
561-674-4333
maryeve0903@cs.com
Let my love for planning create your extraordinary event!
Hello! My name is Mary and as the owner and planner of R.S.V.P events, I am here to strive to exceed your expectations. I studied event and wedding planning in order to acquire the skills necessary to undertake all types of events from small birthday parties to the most extravagant of weddings. The start of my business was inspired by my innate love for planning. It is something I have always enjoyed and felt a need to do in my personal life. There was no question I needed to take my passion for planning into the business world!
Before going into the event planning business, I planned my own wedding. I had every detail planned in 3 months. The planning of my wedding was effortless. I enjoyed it so much and was so efficient that all my friends asked me to plan their future weddings too. It drove me crazy to have to wait one more minute to plan every step until the big day. I drove my friends crazy with all the details going through my mind that I felt I needed to have all figured out a year in advance. People would always ask about my planning progress and were always shocked to find out how far along I was in such a short period of time. All that being said, I think it is fair to say that planning is my true passion. There is nothing else I would rather do than share my love for planning with you. There are many people who can envision grand parties to host for friends and family but don't have the time or expertise to bring it to life. I have studied all the elements necessary and researched all the details needed to make special events successful. I enjoy planning for every small detail that adds a touch extra to your event. From invitations to decorations I love it all and I hope to have the opportunity to make your next event extraordinary and most of all, unforgettable!
Services
The first step to planning your next event is to contact me in order to set up a free consultation. When we meet for the first time we will get to know each other and go over a few main ideas about your event. Your budget if you already have one in mind will be talked about. An estimate of how many people you plan to invite, the area where you would like your venue to be in and the main ideas you have about your event in general will also be covered. After the free consultation you have to decide which if not all of the elements of your event you would like assistance with. Some people only want someone there on the day of the event to supervise all the vendors and details. Others would prefer to have me plan every detail of the event from invitations to the day of and everything in between. I will provide a detailed checklist for you to go over and decide exactly what you would like included in your package. We can go over any questions or concerns that you may have at any time. I work on an hourly rate basis. Once we are working together, I will be keeping track of the time I spend on each elements of the event planning. When we are ready to get started, I will create a contract and an estimate for your event. The estimate will be based on the number of hours I foresee will be needed to plan the event. The estimate is not a final invoice and may change. If additional hours are expected to be necessary at any point in the planning process, I will notify you. Please contact me for more information or if you have any questions

phone:561-674-4333
email: maryeve0903@cs.com