Crystal Roberts
event planner , wedding planner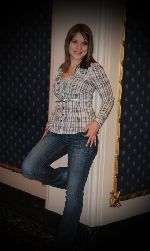 Regina, SK
306-539-4185
crystal.roberts.events@hotmail.com
Planning an event for today that you will remember forever.
I am Crystal Roberts, 21 years old. I have been planning personal parties since I was 15 years old, it has always been my passion.

I aim to give each client exactly what they would like, every small detail makes the big picture crystal clear. My goal is to make your dream become a reality and give you the event you deserve.
Schooling
I attended Luther College Highschool from 2004 to 2008.

In 2008 I enrolled in Early Childhood Development.

In August 2011 I enrolled in QC Event and Wedding Planning.

Experience

I have planned events from New Years Parties to Housewarming Parties, Fundraisers to social events ex: BBQ to Houseboat trip.
Services
I will plan any event you are in need of.
Anniversaries, Birthdays, Cabarets, Conferences, Fundraisers, Holiday Parties, Kids parties, Weddings.

We will have client consultation, where we can discuss what you are needing and what I think I can do to make your event a success. If I feel your event would be best handled elsewhere I will lead you in that direction. If we both come to an agreement and you choose me as you planner, we will discuss all the things that need to be set up in order to make the event a success.

We will then part ways and I will set up all the necessary appointments. We will go to them together, as you see fit. And make any necessary arrangements with each business that's needed to make a successful event.

Pricing varies depending on the demands of each event. If it is a smaller event, I will charge by the hour ($50/hr).