Agata Stepniak
event planner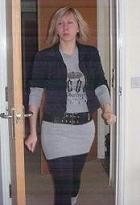 Manchester
aggie2483@hotmail.com
PARTIES/EVENTS YOU WON'T FORGET! Not just A party...Parties Worth Talking About
My name is Agata and I am event/wedding planner. My main idea is to organize party you will not be ashamed of!
I know how stressful it might be being responsible for throwing a big event, that's why I am here to help!
I can organize any kind of party from small birthdays to big corporate events.
My relationships with clients are not only professional but also very friendly and I'm am available for you 24/7 because I know how important it is to be there for you at any time.
I will make your visions come true so do not hesitate to tell me your ideas and together we will make it work!
After working in customer service sectors for 5 years I understand that working with and for people is what I want to do.
After organizing birthdays and hen parties to my friends I've decided to do it professionally.
Working with event agency I was able to get some experience and now I'm looking forward to open my own company to help you organize the best event in your life!
Services
I will organize any kind of party/event you'd like. I am taking full responsibility for every detail from guest list to decorations. I will make sure you have the best menu, the best band/DJ, the best everything!
I will be finding you good deals, contacting providers and making sure you have full details of everything. All you'll have to do is to share with me your vision and relax!