Brandy Rodvelt
event planner , wedding planner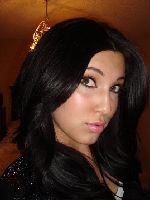 Puyallup, WA
253-241-3092
Brandy_Rodvelt@yahoo.com
No Ordinary Events.

Extraordinary is Never Ordinary.

By Brandy Rodvelt

Hello my name is Brandy Rodvelt. I was born and raised in Puyallup Washington. I Graduated from Puyallup High with arts and communications as my career pathway. As a job I have always worked in customer service and sales, this provides me with exceptional communication skills and teamwork. Right now I'm working as a certified diamond consultant and attending QC school of event planning, to get my certification to plan events. After that I will be going to collage for hospitality and tourism which is the schooling you would want to hire in an event planner. Event planning will be my career and I will be one of the best.
I understand what it takes to bring something outstanding to the table; it's in the details and extra effort to accomplish the event. My approach to design is to meet the standards for my client and exceed their expectations, not only in the lighting, entertainment, and overall appearance, but the communication and skills that I've required in school and internships as well as previous experience. I've completed interior design, business and marketing, painting, drawing, glass and metal arts as well as design classes. I believe I have a great eye for anything from over the top to clean and simple. I will make this event easier on you and an experience you won't forget.

My work experience would be helpful for any bride to be. I'm a certified diamond consultant so I can give suggestions for wedding bands that need to be purchased, As well as anniversary or birthday ideas. I could help budget both rings as part of the wedding so we can either create your dream ring from designer shows I can refer you too, or help find something affordable at a great price. My education includes a lot of creative classes so I'm experienced in drawing out my ideas on paper to give you an idea of the space. I also took interior design classes to help design the room using color pallets and themes. I can make any poster size examples showing textures and colors for the layout of your event or wedding. My business and marketing classes taught me computer programing and how to start my own business. My past experiences and classes will help me grow to be a great event planner.
Services
My service is dedicated to plan, book, organize and produce special events.
Every client who partners with me is provided with professional hands-on service where every detail is attended to and every budget, no matter the size, is utilized in a creative and cost effective manner. When you're looking for a creative way to thank your employees for a job well done, raise money for a special event, or organize your festival, remember No Ordinary events by Brandy Rodvelt. I'll make sure your event is unforgettable.
Call us today and I will go over with you your plans and ideas for your event as well as a price quote. If you have any questions I will be able to give you an answer and proceed in this delightful event for you or your company.

Events include but not limited to: Wedding, Banquet, Dinner, Private Party, Corporate Event, PR , Marketing Event, Meeting, Conference, Convention, Lecture ,Speaker, Charitable

Pricing is based on event details. Please contact me for a quote.
Brandy_Rodvelt@yahoo.com