Nilukshika Mendis-Abeysekera
event planner , wedding planner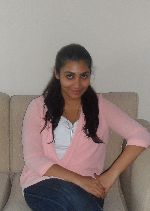 Bangkok
+6684 7676 052
nilu.mendis@gmail.com
Your Fantasy Is My Fascination!!!
I am the new bird in the nest of event planning but never the less my job is to take your vision to a whole new level! My name is Nilukshika Mendis born in Sri Lanka and brought up in Thailand. My love for event planning grew from observing a diversity of events. Planning family reunions, birthday parties got me thinking of wanting to go deep into event planning, so I am currently working towards getting my certified qualifications from QC Event and Wedding Planning course.
I might not have the experience to be an event planner but I sure have a lot offer. My bold thinking and experimenting with ideas lead me to do what I want to do. I don't want a job of 9 to 5 I want to get involved in what I do and most of all I want to make people happy, by bringing their dreams to life as well as letting them know that nothing is impossible as long as I am in charge. Besides from all this I hold a Bachelors degree in Business Administration from Bangkok University.
Services
All clients are unique and the services will vary from client to client. The clients' satisfaction lies within me and I will offer my customized services to the clients to meet with their specific needs. Whether the requests' is too large or too small I will be glad to take care of all.