Lorena Kennedy
event planner , wedding planner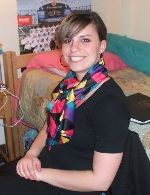 Tinley Park, IL
708-224-5596
lorena_kennedy@hotmail.com
Events you've dreamed of!
I am a recent college graduate with multiple years of event planning experience. I believe that my young age gives me a unique and fresh perspective on events and weddings that other people may not be able to provide. Through my work as a college event planner, I have become successful at connecting people of all ages and determining what everyone finds entertaining. This line of work is very rewarding for me and my passion makes me successful at it.
I grew up in a traditional Sicilian family, which means that I am no stranger to large family gatherings and do-it-yourself parties. Throughout my childhood and education I have always had strong leadership abilities and have loved planning activities for people.
When I went to college at Lake Forest College, I became president of the Programming Board, where I was responsible for all entertainment on and off campus. I planned events as diverse as large concerts, small coffeehouse performances, carnival nights, and parties for hundreds of people. I am incredibly in touch with what college students find entertaining but also have been successful in planning parties where people of all ages connect.
The most rewarding part of planning events is seeing one become successful. When I see people enjoying themselves at one of my events, I feel a sense of pride and accomplishment that I have not felt doing anything else. A good event is one where the guests have no idea how much work went into the planning process and this is the work I love doing!
Services
I offer both social event and wedding planning. Social events can range in guest numbers from 20-500 people and I will make the event the best it can be. I offer services for the entire planning process, from a consultation to general planning to day-of management. You may choose any or all of these services in order to meet your individual needs.