Rachel Alvarez
wedding planner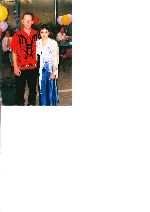 Mackay
0467610744
rachel-alvarez1985@hotmail.com
Hi my name is Rachel Alvarez and i am a Wedding Planner. I can help you deal with the stress, troubles and hard work it takes to plan your wedding. Basically, i can will help in facilitating and managing events before, during and after your wedding ceremony. Aside from handling wedding planes, i can also play a big role in helping you calm down when facing the pressure of having a wedding. This will cover important information on how to choose me to help you with planning your perfect wedding.
My backgorund is i have a Cerificate 2 in Business, Working with Childrens Check, Certificate 2 in Retail, RSA and RSG and now i am currently completing
QC School Of Event And Wedding Planning.
Services
I will take in charge of numerous responsibilities, which is mainly involve the planning your wedding. Basically, the main job for me is to plan for the best wedding possible given certain conditions, such as the venue, the naumber of guests and your budget. One of the most important tasks of me is to come up with a schedule for events and supplies depending on the wedding date. Some of the events and supplies that i will have to schedule include pre- and post- wedding parties, meetings, fittings, rehearsals and reservations for veunes and services.