Natalie Merrick
wedding planner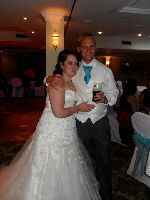 Leamington Spa
07903175193
weddedblissplanning@hotmail.co.uk
For the day of your dreams!
Hello,

My name is Natalie Jayne Merrick and am here to help you organise the day of your dreams!I am currently in the process of completing the IWPP wedding planning course and am dedicated to organising unique, personalised weddings. I offer a wide range of Wedding planning servies, so please feel free to browse my site and do not hesitate to contact me if you require any further information or a personalised quotation. I look forward to hearing from you.
Wedded Bliss Planning is a bespoke wedding planning company who are dedicated to helping you create the day of your dreams. Wedded Bliss Planning is currently run by Natalie Merrick. Natalie developed her passion for weddings and more importantly wedding planning, as a result of creating her ownn wedding day! Following Natalie's fabulous wedding day, she has recently undertaken the IWPP (international wedding planning professional) course in wedding planning and is solely dedicated to aiding Bride's to create they day that they have always dreamed of, irrespective of budget.Natalie specialises in creating a Wedding day that is unique to the couple and incorporates elements that are particularly important to them. One key message from Natalie is that you do not have to have a big budget to benefit from hiring a Wedding planner. At Wedded Bliss Planning we provide a wide range of services, from sourcing venues right through to creating your whole day. No task is too small for us! Please feel free to explore our site and contact us for a personal quotation.
Services
Wedded Bliss Planning covers Warwickshire & Coventry and is a bespoke service. Please find details below of popular packages that are on offer. All packages can be tailored to suit your individual needs. Please do not hesitate to contact us for any further details or a personalised quote.



Complete Wedding Design:

This package offers everything you could possibly need! We will begin with an initial consultation to discuss any ideas, themes or preferences that you may have. We will then continue to source veues and suppliers that fulfil the wishes of the bride. Also, we will take control of your budget to ensure that everything stays on track and that no nasty suprises occur. This package ensures that every wedding is unique and truly the day of your dreams. The initial consultation will be free of charge and a full written quote will be provided after the consultation.

Price from £1500



Wedding Styling:

This particular package is ideal for the Bride who requires a little guidance on the best way to approach planning her wedding. We will discuss your ambitions for the day and provide you with all the advice and supplier details you need in order to make it a reality. This package is aimed to provide any Bride with a soolid foundation from which she can plan her perfect day.

Price from £100



Venue & Supplier Sourcing:

An excellent choice for the busy Bride who still wishes to plan her own Wedding day. We can create a shortlist of up to 3 suppliers in any given field (e.g. florsit, photographer etc), from which the Bride can then choose. Venue sourcing is also available, where recommendations for the perfect venue can be made. Appointments with suppliers & venues can also be arranged. We can also attend these apoointments with you should you wish, to ensure the correct questions are asked.

Price from £45



Guest Management:

Total control of the guest list is handed over to us with this package. Based on your guest list we will take control of ordering invitations, posting them out to guests and compiling a list of RSVPs. Also, accomodation can be arranged for any out of town guests.

Price from £120



Wedding Day Support:

The day of your wedding can be one of mixed emotions. With this package we will take the reins from you approximately 7-14 days before your wedding. We will confirm all bookings with suppliers on your behalf and provide invaluable support and problem solving on the day itself, leaving you to enjoy your dream day.

Price from £300



Wedding Dress Selection:

The day that every little girl dreams of! We will arrange 3 appointments for you at Bridal boutiques within the Warwickshire area and provide lunch. This day gives you the opportunity to try as many different dresses as you desire whilst being a fun girls day out. Friends and family members are welcome to attend and it is our job to provide you with honest and helpful advice. This day is a must!



Price from £100