Jemma Gamble
event planner, wedding planner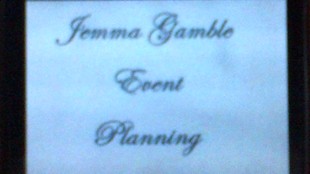 Chester-Le-Street
07960392377
jemma.gamble@yahoo.com
My aim is to create breath taking weddings, fun parties, and just a memorable day for you whatever the occasion.
I am new to the wedding and event planning business meaning I am eager to impress and make a difference. Hopefully I will be able to make a name for myself and build a great client base. I am currently working with QC event school to complete my course and become a full time planner. My business will be named, Jemma Gamble Event Planning and I hope to be fully qualified by the end of 2012.
My aim will be to take the stress of planning your event away from you and give you a day to remember.
I understand how important it is to create the perfect day for you, whether it is a birthday, christening or Halloween party. I also understand how much planning and money can go into events, so I aim to give you a magical day within any time frame or budget. I have a great eye for detail and strive for perfection. I am a mother of 3, and i love nothing more than organising Birthday parties, Christenings, sleepovers with a theme and Spooky Halloween parties. When i see the smile and excitement on the childrens faces, i know it has all been worth while. This is what i hope to achieve with all my clients, with hope they will return time after time.
Services
I can be there every step of the way for you, from giving general advice and information to creating the full event. As the client you can choose how involved you want to be. I am happy to take full control or work alongside you to create something unique and special to you. I offer a free consultation to give clients as a chance view all the different services I am able to offer, no matter how small or large the event is. Together we can take control and leave lasting memories. Please feel free to contact me for a general chat and to discuss my services and prices.