Morline Holcomb
wedding planner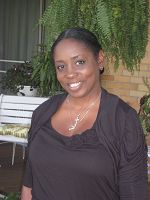 Lake Orion, MI
313-729-7379
customercare@weddingsbygfaevents.vpweb.com
Become Stress Free
I am based out of Southwest Michigan, but I coordinate weddings all over Michigan. You can trust me to bring together the most creative, skilled and talented resources to bring to your event to life. I help brides in all areas of wedding planning and coordinating from beginning to end. From the small budget to the endless budget, I can help. BeCome S T R E S S Free
Services
Full Planning-Who has the time to plan. For the bride/groom who wants someone to handle all the details up to the wedding day. This package includes: Wedding Day Director, Personal Bridal Assistant, RSVP Service and Babysitting.

Wedding Day Director- This is for the bride who has done everything and only wants to enjoy her wedding day without stress. I can handle all the details of arrangment with the vendors scheduling, decor setup, palcement of items and so.

Personal Bridal Assistant-Shopping and planning is stressful enough. When you have no one to go with you dress shopping, floist shopping and so on. I can hangout with you for the day so you won't be alone.

RSVP Service- Time is short for anyone planning their wedding on their own. I can help by handling the RSVP count, keeping track of those coming in and reporting to you once a week and to the reception site at the end of the reply date. STRESS Free

Babysitting- Often we do not want to invite children to receptions. Some parents are unable to fine babysitters. We can help relief that stress for them. 4 hour service of games and entertainment for kids.
Testimonials
Thank you for everything you have done to help ensure that oir day was just as we pictured it. Knowing that you were right there to take care of every little detail just as I would allowed us to relaz and truely enjoy every moment. Thank you so much, we could not have done it without you. Love Jos & JJ Fricke