Barbara Roberts
wedding planner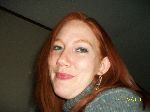 Alpine, TX
432-940-7026
brsenior2004@yahoo.com
A wedding can be expensive, if your trying to save money I can help!
I can make your dreams and desires possible, with precise plan
A wedding is a beautiful event to be remembered and cherished for years to come. The Newlyweds is a wedding planning and consultation business created for people who need it the most.
My job as your planner is to make your dreams come true. I promise to achieve that magic you are looking for; by offering my time, knowledge and many wonderful skills in any way possible to get the memories and results you are looking for.
As your wedding consultant I will offer you support, be a person you can confide in, and a liaison through this wonderful part of your life.
I come from a small town in West Texas where personal means everything. I own a flower shop in Alpine, Texas and have already served couples in planning their floral arrangements. I tend to offer other wedding planning advice while consulting with them. I love being on both sides, the floral and the consulting side. I have many ideas and am willing to share them all.
Services
I serve the local tri-county area which includes Brewster, Jeff Davis, and Presidio Counties. I offer several services:

*Complete Wedding Planning

*Planning and Preparation Services

*Direction of Rehearsal and Wedding Day events Only,
and many specific services or vendor coordiation.

Please feel free to contact me by phone or email for more information.