Joycelyn Benoit
event planner , wedding planner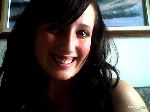 Guelph, ON
jbenoit0513@hotmail.com
Planning the Event of a Life Time.
My name is Joycelyn Benoit and I am an Event and Wedding Planner. When I was a little girl I used to imagine my wedding day the wonderful flowers the white dress the hole works. As I got older I became even more interested in the beauty of creating something… a memory for everyone to remember then I herd about Event and Wedding Planning and I was very happy. Now here I am ready to plan your perfect day or event. This is my passion as well as my job and I am going to do my best work for you.
I have and IEWP witch means International Event and Wedding Planning Professional. This means that I am able to work anywhere in the world as an event and wedding planner. I don't have much experience I have planned a few events. I planned my sons first birthday party witch was also another little girl's party because they were born a day apart. I love to plan events it takes a lot of dedication and strength to plan an event from start to finish.
Services
My services are simple and easy to understand. I charge but the hour $50 an hour. I also have packages now there are a lot of them so I will list a few so you can get an idea:

Full wedding services
-Everything that is involved in planning a wedding
Would be around $4200

Kid's birthday package
$450

To find out about other packages then please let me know