Lauren Watson
event planner , wedding planner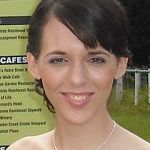 Queensland
0412730050
lauren.e.watson@hotmail.com
For all Events Big and Small
My name is Lauren Watson, and I am starting a new career as a Wedding and Events Planner. As I love organising parties, weddings, bringing people together and making clients smile and happy. I thought to start the journey as a Wedding and Events Planner as my career.

Even though I am new to this business/career, I can offer new ideas and options, and I am willing to listen and learn if you are willing to give me the opportunity.
Well I am only 20 years of age, and starting a career in Wedding and Event planning seems the best opportunity I have had so far. I have worked in retail and administration, and with the financial crises happening in our lives, I thought what a better way to start new and afresh in a business which can show my skills and knowledge to the world.

I finished grade 12, in 2007 with thoughts of studying and performing Drama; however, knowing I wasn't the best out there I had to search for a better career option. Since attending and ongoing assistance organising my friend's wedding in February, the idea of Planning or Organising Weddings and events started to become my passion and urge to follow this dream.
Services
My services I offer: any Event Big or Small; however, I major in wedding planning.
It will be my pleasure to plan your wedding/event for you. As my prices may be high to begin with or quite reasonable, I am only new at this; but, I will give you the best event you can possibly have.

I know to: budget, I can save you money, if you want an event that costs a total of $7,000 I can make it happen. I do all the researching, contacting for you so you don't need to worry about a single thing when it comes to contacting suppliers (e.g.: florist, cake decorators, reception venues).

I do charge: $50 for 1 hour of consultation of our first meeting. I come to your home, at your convenience.
($12.50 for each 15mins after the first hour).

If you are happy with my services, and we arrange the event, I can do payment plans. But this will be discussed with the client.