Nevrig Rangel
event planner, wedding planner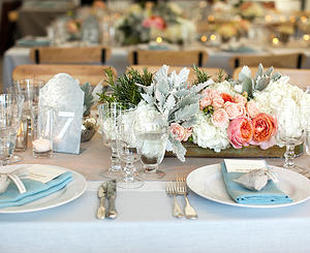 San Francisco, CA
415-225-9146
Noni Rangel Events...
The Sky is The Limit...Just Believe in your Dreams...
My name is Nevrig Rangel (Noni) and I just started my career as an Event & Wedding Planner. As a QC Event Planning student I specialized in fun, creative, personal, and unique events for those that put value in well styled events.
I enjoy living a balanced lifestyle, complete with spending quality time with my husband and daughter, discovering off the beaten path local eateries, or spending hours window shopping for that last bit of inspiration. When I'm not planning events, you can find me caught up in great conversations with friends, catching up on my weekly television shows, and conjuring up new life adventures.
I believe in blending your personal style and family traditions into your event. I believe in parties that take your breath away. I believe guests should feel pampered. I know that coordinating an event can be challenging and I want you to enjoy the planning as much as the big day
Services
Because every client is different and I like to think of each event as custom so pricing varies from project to project. I could help you to plan your event in San Francisco Bay Area, from Napa and Sonoma to Carmel and Tahoe and destinations worldwide. I plan and design amazing weddings, events and social celebrations. If you're looking for a fun, stylish, creative event - I welcome you to join in my parade!

Event Froduction:
From start to finish, I can guide you through the entire planning process.  From full coordination to month of packages, I can help with as much or as little as you need.  I can also tailor packages to custom fit your needs.

Full production package + event design 
The full service event planning package is designed to take care of every aspect of pulling your event together.  I can help find the perfect location, source the best vendors, and manage the entire planning process to ensure your event is flawless.  My expertly orchestrated event will leave your guests in awe.  Everything from logistics to troubleshooting- it's my business to make sure your event is simply unforgettable!

Partial Coordination
The partial package is intended for those that
realize the planning process is more than what they bargained for.  You
have some vendors located, but need help planning the rest. This package
includes everything plus day of management + rehearsal coordination.  In addition, I will help locate other quality vendors compatible with the overall feel and budget, as well as pulling all the elements of planning together. 

Month of Coordination, includes day of management & rehearsal coordination
This service is for those who have decided to do all their own planning. The last thing you need to worry about is how all the months of planning will fall into place on the big day.  As an event professional I can help to ensure that everything runs smoothly and efficiently.

Event Design:
I believe that design is an art.  It is the love of this craft that makes our events so unique.  I love colors and textures  and believe that every event is as special as you are.  From decor, escort displays, cake design, event styling, and more - I could help you to design your event.
Full event design & styling, custom mood board creation, design sketches, and shopping consultations are custom quoted.