Adriana Echegollen
event planner , wedding planner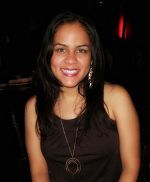 Chicago, IL
773-397-6489
urevent-urplanner@hotmail.com
We do everything at your way, and you... JUST ENJOY IT!
Hi, my name is Adriana of Ur Event-Ur Planner, and I create special events for my clients such as birthday parties, sweet sixteen parties, fund-raising events, children´s parties, quinceañeras, weddings and more.

I work with you to make the details of your event flow smoothly and assist you with the selection and management of the event vendors like the florist, entertainment, lines, transportation, catering, decor, e.t.c., allowing you to have fun and enjoy memories of a lifetime!
I always was involve in the organization of my school activities and events, besides I loved to plan my friend´s or family´s surprise parties. This is why i studied a degree in business management specialized in recreational services.

Because i like to help and work with people, after graduated i worked as a free lance in different companies planning events, coordinating groups or imparting recreational activities.

However, it wasn´t until I worked in the hotel Crowne Plaza Los Cabos as a group coordinator and on-site wedding planner when I realized how much I liked to organized social events, since then I have been planning and coordinating beautiful weddings, quinceañeras, graduation parties, birthdays, bridal showers and more.
Services
Turning 40, Getting Married, Celebrating an Anniversary... or whatever the milestones in your life or love ones may be.. Let us help you celebrate with fun,style and stress free!.

Ur Event-Ur Planner can assist with the complete coordination of home parties or catered events at restaurants, hotels or the venue of your choice. After a consultation, we complete the planning process with unique invitations, personalizes decorations,professional photographers,fun entertainment, full service catering and everything you need to make your party the event of a lifetime!

From full service planning to "day of" services, we adapt our services to your needs and budget. We have a variety of affordable pricing options available. Prices start as low as just $50.00

Ask about our:

Full Service Planning Package

Day Of Coordination Package

Pay As You Go hourly rate

!CALL US NOW, THE CONSULTATION IS FREE!