Beverly Nelson
event planner , wedding planner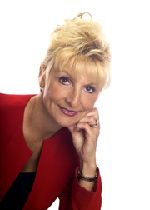 Hudson, WI
651-428-9108
beverlys.celebations@live.com
Say "I do" at a place with a view!
At Beverly's Celebrations, our full commitment is to create that scenic intimate setting, for your smaller wedding to forever be remembered in the beginning of your new life together.
Located in a private secluded setting looking west atop St. Croix river bluffs, our location can provide you with priceless panoramic views for this unforgettable event.
Beverly's Celebrations is a spectacular location for your outdoor wedding ceremony and is an ideal setting for creating memorable pictures.
Amenities for your wedding day include a sound music system, tiki torches, along the walk way, trellis designed in colors or flowers that compliment yours.
Relaxed seating with 50 chairs, buuffet table for guest book and gifts, beverges, etc. vases with potted plants, and vase for fresh flowers in ceremony
area.
Our dusk and evening weddings are gorgeous with lighted trees, torches marking the pathways (open to decorate with your colors). You may even see the paddle boats all lite up or the beauiful sunset.
To accommodate your needs before the ceremony, beautiful river view dressing/lounge areas for brides quarters and groom's room equipped with bath, showers, full length mirrors and many outlets, also room for attendents.
Lower level has a room perfect for bridal party to enter out to the walkway to start the Ceremony.

Pricing and available dates upon request.
Smaller venues, on weekday's Saturday mornings and Sunday's are very Romantic, with a more intimate feel, and often less expensive.
Services
Beverly works with a group of preferred venders to provide everything needed for a wedding or special event.
Ceremony planning
Florists
Catering
Photography/video
Transportation/valet/limo
Bridal shops
Rental
Cakes & Flavors
Invitations
Music/entertainment
Hotel accommodations