Marilyn Chappelle
wedding planner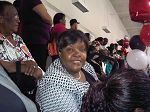 Gainesville, GA
770-367-5338
marilyndj@charter.net
Weddings by Marilyn
Thank you for visiting Weddings by Marilyn. I am a Marilyn Chappelle, your future wedding planner and I have big plans for your exciting day! I guarantee that your biggest day will be treasured for the rest of your life. If you are not completed satisfied with my services then all services are on me. I look forward to building a fabulous relationship with you.
Marilyn has been planning events for many years. She is recently certified in Wedding Planning. She is a school teacher of over 20 years, a loving wife, a mother and a grandmother.
Services
Wedding Planning, Scrapbooking services and Alteration services.