Jonathan Topham
event planner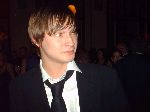 Leicester
07701 037 130
jdt14@live.com
The World is changing! Let your events be the first to Evolve
My name is Jonathan Topham and I am currently the event co-ordinator and assistant manager of Leicester bar that is branded with on of England's largest catering business chains.

I have worked on all areas of events spanning from birthdays and music events to holiday planning and organisation.

I have worked along people of all walks of life and as such has allowed me to understand that; although many events have the same make up, Everybody is an individual and each event should be treated likewise.