Brenda Cowan
event planner, wedding planner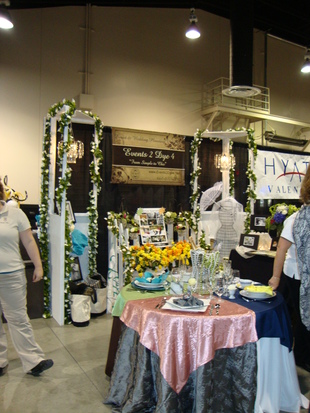 Lancaster, CA
661-240-9140
Events2Dye4@gmail.com
"From Simple to Chic"

Find me on Facebook!
PRIVATE AND CORPORATE CLIENTS:

Full service event production that specializes in event design planning for both private and corporate clients. Events 2 Dye 4 services all of Southern California. I have an outstanding reputation in the industry offering the discerning client an extensive and comprehensive range of services including unique invitations and innovative floral designs, creative event design & precision planning.
SERVICES:

Packages include: Quick Idea Consultation, Virtual Consultant Service, Design & Decor Service, Full Coordination Planning, "Day Of" Coordinator or Destination Planning.

For your Wedding:
Every couple should have the opportunity to celebrate their wedding day with their guests, knowing that all of the details, large and small, are taken care of by professionals who understand their vision and expectations of the day.

For the Corporate Client:
Let me take care of all the details for you so that you can focus on the business at hand. I offer creative team buidling activities and can offer unique ideas to accomplish your meeting goals.

Focusing on everything from theme creations, to invitation selection, to vendor suggestion and more, Events 2 Dye 4 will make sure that things get done right, on time, and within budget.
Services
Add-on Meetings and Services:
• Corporate Meetings
• Engagement Parties
• Quinceanera's
• Vendor Research & Availability
• Off-site Catering Companies
• Stationery
• Guest Response Management
• Photographer
• Videographer
• Florist & Décor
• Cake and Pastry Artists
• Hotel & Accommodations
• Hair & Makeup Artists
• Rehearsal Dinner Locations
• Post Wedding Brunch
Testimonials
The smallest detail was thought of. Being the bride, I didn't have to worry about anything that could happen as I know it was already being handled. The quality of service was exceptional even the coordinator of the resort was put to shame. The organization was over the top, down to photos of how the napkins were to be folded, so the servers would have no questions about how the setup should look like. Would highly recommend for your wedding, or any event for that matter.
Kara Davis - Bride 09/2009
Brenda provided an EXCELLENT wedding for me. She not only planned and arranged exactly what I wanted, she explored all options, and was always aware of my budget and the money involved. She came up with inventive ideas to cut cost, while maintaining the elegance of our wedding location. She was great to work with because she knew the ropes and when I didn't know where to start, she lead the way, listening to what I wanted and making the day come together like a dream! Very professional, knowledgeable, and savvy about the wedding 'world'. Thanks for making our day the best!
Brooke Simpson - Bride 06/2008
Events 2 Dye 4 really made my wedding spectacular. They were just what I need to be able to relax and enjoy the process. I was super overwhelmed in the beginning, and Brenda came along and saved the day for me! They were always attentive to my needs and wants, and made sure my event went smoothly, without me having to worry about any detail large or small. Friends and family are still talking about our wedding! That is with special thanks to Events 2 Dye 4, could have not done it so beautifully and relaxing without you guys!!!! Thanks so much!
Heather Casaus - Bride 07/2010
See All Testimonials