Damelsa White
event planner , wedding planner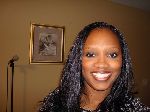 Belleville, IL
619-820-6511
damelsaevents@yahoo.com
Create Memories...Plan for Success...Deliver Results!
When having an event, you have the opportunity to create one of life's most memorable moments. Damelsa Events can provide the expertise to ensure no detail of your event is over-looked. My goal is to ensure your event is done in the most classy, creative and economically feasible fashion. I take pride in knowing I am contributing to helping create an unforgettable event for you and your guests. While you are taking care of your day to day business, let me take care of you! Don't let the opportunity pass you by - contact Damelsa Events today!

For more information email Damelsa at damelsaevents@yahoo.com or call (619)820-6511
White is a 2000 graduate of the United States Air Force Academy and a 2006 graduate of the Air Force Institute of Technology where she received a Master of Science in Logistics Management. White is also a Certified Six Sigma Black Belt and has a Certificate of Mastery in Process Reengineering. Her experience as an Air Force Logistics Officer has given her experience solving problems in some of the most austere environments and difficult times. She has planned everything from the movement of troops and cargo in the combat zone, professional conferences, and miscellaneous private social gatherings.
Services
Create: provide cousel and advice

Plan: arrange venues, vendors, suppliers, invitations, etc

Deliver: attend event to oversee and troubleshoot (if applicable)


For the ultimate event planning experience all of the above services can be provided togethter or ala carte.