Hollie Houston
event planner , wedding planner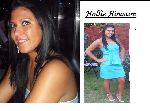 Southampton
07879771766
hlhouston87@googlemail.com
Wedding Planner/ Events Planner

Every woman in the world dreams of a perfect princess wedding with the perfect prince. It's the most exhilarating and moving day of the princess's life. The time to LIVE HAPPILY EVER AFTER!
I want to be part of this experience as much I can and be involved with every aspect of the wedding.
This is why I have chosen to do the QC wedding & event planning qualification. Since I was a little girl I used to wear my mums wedding dress and veil; Stomping around in her wedding shoes with bright red lipstick pretending to marry my prince charming.
My love for organising events started off when I was at secondary school seven years ago. I organised a talent show with the head girl, it included auditioning acts, finding judges, finding the venue, arranging the sound & lighting, costumes, make-up, prizes, invitations and tickets. This event was a successful evening and it made me feel motivated to organise more events.
As I enjoyed organising I decided to do Travel and Tourism at college, where I was able to learn about different cultures and different places. Within this course I had done a travel agent qualification where I had to organise holidays, where I found this exciting. As well as doing an event unit where I organised I trip to Thorpe Park. I had to find a coach, contact the park for discount prices, collect money and market the event.
From College I went to University where I had organise my time round my studies, a part time job as well as having my own dance company. Through out university I will arrange a nights out with my friends where we all had to dress up, such as raver girls, army, fairies, devils, cave girls, bunnies, Hawaiian, police and everything that goes.
For my 21st Birthday I had a white party in a club with champagne on the Friday night and I had a Jacuzzi party in a club with a stretched hummer on the Saturday night. I always try to find a reason to have a party and to create a theme.
I currently work with one of the top four accountancy companies in the UK but have decided to take a different route in my life to help others organise the key events in their lives.
You maybe thinking I don't have enough experience or I'm too young to know what to do but don't let this mis lead you. I am a passionate and energetic person with all the skills and knowledge needed to get things done!
Services
Wedding Planning:

- Ceremony/Venue/Accommodation
- Hen/Stag Parties
- Transport/Transfers
- Dinner/Catering/Wedding Cake
- Entertainment/Music
- Decorations/Balloons/Banners
- Invites/Other stationary components
- Photography
- Honey Moon

Event Planning:

- Corporate meetings
- Birthday Parties
- Children's Parties
- Fund Raisers
- Funerals
- Christmas Parties
- Christenings
- Industry Events
- Themed Parties
- Baby Showers
- And Many More.