LaKeshia Jones
wedding planner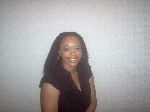 Jacksonville, FL
lkshjns@yahoo.com
Welcome to your Dream Come True! Planning your celebration with "Ivy League" results!
Ivy League Weddings and More by LaKeshia… What is the meaning of "Ivy League?" It means Elite, the Best, Cream of the Crop, Distinction, and Top of the Line!!! When we say, "Welcome to YOUR Dream Come True," we mean it! Let us plan your celebration the way you have imagined it to be, but be ready to just sit back and relax! Experience our loyal, detailed, and enthusiastic service to you. After all, It's Your Day!
LaKeshia Jones Graduated Magna Cum Laude from Savannah State University in December 2001 receiving her Bachelor of Science Degree in Biology. She was also commissioned in the United States Navy as a Supply Corps Officer and served her country from 2001-2005. In December 2006, LaKeshia graduated with honors from Florida Community College at Jacksonville, currently Florida State College at Jacksonville, receiving her Associate in Science Degree in Nursing. She is currently a Registered Nurse residing in Jacksonville, Florida.

LaKeshia has a passion for being of service to others. With her history listed above, she has no choice in being none other than an organized, motivated, dedicated and meticulous individual. She has been planning weddings and other special celebrations since 2004 with impeccable results. In October 2010, LaKeshia successfully completed the wedding planning professional course at QC School of Wedding Planning, with exceptional grades, and is now a certified International Wedding Planning Professional.
Services
Relax, I'm at your service!

Specializing in:

Wedding Planning
Wedding Receptions
Engagement Parties
Bridal Showers
Baby Showers
Anniversary Parties
Graduation Parties
Birthday Parties (ages 18 & up)

Please contact me via email for pricing information.
Testimonials
When my husband Jeremy proposed to me in January 2008 I knew immediately who I needed and wanted to assist me in the process of planning our wedding. Keshia was the first person I thought of to help us and I knew that since the wedding was scheduled for November of that year we did not have much time to plan. You don't realize how much work and planning that is needed to put on a wedding, but with Keshia's help EVERYTHING went smoothly. From the picking out of my wedding dress, the bridesmaids dresses, the dress fittings, menu, and venue planning, as well as small things people tend to forget such as making sure that we had a lighter for the unity candle, Keshia did it all! She even composed several letters to the entire wedding party, advising them of their duties, proposed expenses as well as dates and times that were important to the wedding. There were times that I thought that Keshia was being picky by instructing me to check and recheck certain things, but when all was said and done the wedding went off without a single issue. The entire wedding was planned and all arrangements were completed several weeks before our wedding day, and all we needed to do was get ourselves ready and show up at the church. One thing that comes to mind is the fact that I was dressed and all bridesmaids were ready at least 45 minutes before the limo showed up. There was no rush to complete anything, and this is a testament to the organization and planning of the wedding. The timeline was perfect and there was NOTHING that did not go as planned, and we have Keshia to thank for that. A lot of brides like to think that they can plan their own wedding without any help, but that is not a suggestion that I would ever make. I would trust Keshia to help plan any major event in my life and recommend that anyone trust her to plan theirs. Not only was she my wedding planner, she was my Matron of Honor and is one of my best friends. Huriyah Gordan
Let me start off by saying, "Phenomenal"! If you want classy, unique and well worth every penny, look no more! I began working with Keshia in November 2004 and set our date for May 7, 2005. She met every need and desire to make my engagement party so special, my guests couldn't wait for the wedding. I set a budget of $5000 and at the end, there was $266 left. With the personal phone calls and e-mails, I never had a chance to become a bridezilla! Honestly, if it wasn't for Keshia...there would have never been a happily ever after. Thank you Keshia! Lenelle Kirkpatrick
I was more than pleased with LaKeshia's services. LaKeshia has always displayed a high degree of integrity, responsibility, and detail. She is extremely detailed and organized. In addition, she was very personable and had an overall concern for the success of coordinating my wedding day. She is very reliable in every aspect and has proven that a big event can be stress-free. LaKeshia is dependable and very helpful. Her good judgment, calmness and positive attitude made my wedding day a joyous occasion. LaKeshia would be a great planner for anyone whether it be a wedding or any type of event. I am happy to give her my wholehearted endorsement. Mrs. Tori Bryana Hayward