Amphoe Bautista
wedding planner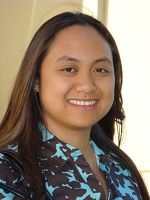 El Paso, TX
atouchofblueweddingplanning@gmail.com
Something old. Something new. Something borrowed. Something blue. All your wedding needs from "A Touch of Blue".
You're Engaged! Congratulations! My name is Amphoe H. Bautista and I am excited to be a part of your very special day. Weddings can be very memorable and life changing and similarly can be time consuming and very overwhelming. I am here to alleviate any stress and help guide you through this wonderful journey to create the wedding of your imagination and dreams. Weddings are a product of the love between two individuals and my main goal is to express this love throughout all aspects of every wedding I am asked to be a part of.
I grew up and have lived in the El Paso area most of my life. But my services are not limited to only the El Paso area. I am open to travel if and when needed.

I enjoy planning parties and the challenges that come along with them. As of late I'm new to the Wedding Industry, however, I am ready and willing to dive into it and look forward to the experiences and opportunities ahead.

I recently graduated from the University of Texas at El Paso and am currently working on a Masters Degree as well as obtaining my certification in Wedding Planning.