Maria Coetzee
event planner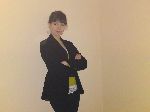 Great Dunmow
07766995542
mitza@hotmail.co.uk
Let me take care of the details
Events by Maria, adds creativity and fun, to your events throughout the Essex area. Here at events by Maria I can help you plan as little or as much as you would like in order to create the dream event which will leave people talking for weeks.
Hi, I'm Maria. For several years I have been hosting children parties in my home town Great Dunmow, they have mainly taken the form of adventure swimming, High School Musical themed, bouncy castle, and activity parties. I have also undertaken an internship to broaden my experience which includes Stansted Manor Hotel where I worked under the Events Manager Bianca Brits, to organise anything from weddings to tribute evenings for charity. I am extremely enthusiastic about creating events. What I love most is the amount of creativity I can incorporate into an event to make it special for the client. I am currently undertaking an events and Wedding Planner course with QC events, which I am finding to be a valuable experience.
Services
I can plan as little or as much of your event you wish, whether that means taking care of your whole event or taking care of areas you are not so comfortable planning, for example designing invitations, researching suppliers, or even just supervising on the day, to make sure your event runs smoothly giving you a chance to enjoy your event.