Delta Rupe
event planner , wedding planner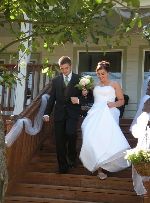 Springfield, OR
missd_2323@yahoo.com
Congratulations on your engagement, and upcoming wedding! My name is Delta and I'm currently taking the wedding, and event planning course. I'm so excited to start a new career as a event and wedding planner. Getting married is so exciting, and so stressful at the same time, and I'd love to help you in anyway possible to make your wedding a dream come true.
I recently got married and did most everything on my own, and I can say that is was really stressful, and would have loved to have a wedding planner. I've been involved with many weddings, and each one is unique, and special in their own way. Currently i'm working with a couple on planning their wedding! I'm so excited to get more experience!!
Services
I'm here to help you with everything you need to make your day special, and as stress free as possible!