Louise Coupland
event planner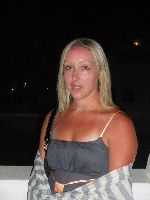 Camberley
louisecoupland@supanet.com
Making your important events extra special.
My name is Louise Coupland and I have been in the event industry for around 8 years. I have successfully managed charity events for Help for Heroes and a Children's Hospital Ward creating awareness for them and raising funds when the ward was burnt down. I have also designed 'days out' for friends birthdays making it extra special for them on their day.
I have arranged disco parties for family and friends and organised the food, drinks, decorations and invitations for these events.
I have worked in the leisure industry for 9 years and this is where I started organising events and found a great passion for. I am currently an Assistant Manager for an Ice Complex.

I have studied Sociology, Psychology, Media Studies and Sports Studies at A-Level grade. I also hold a NPLQ, 1st Aid qualification, Swimming Teachers qualification and have vast experience with excel and word documents. I am very good at organization, budgeting and dealing with customers and the general public and stay calm under pressure.
Services
Birthday Parties
Charity Events
New opening of businesses
Days Out
Corporate Events