Laura Buchan
event planner , wedding planner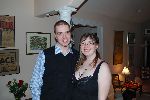 Victoria, BC
250-507-4401
laura_buchan@hotmail.com
Do you want to remember the day and not the stress?
Hello, my name is Laura Buchan. I have lived in Victoria BC for pretty much my whole life. I come from a great family and am just about to start my own. For the last 4 years I have been dating the greatest guy and recently he asked me to marry him.
Currently I work in the travel industry as a travel agent. I have a college certificate as a travel counselor and I have been with the QC school of event and wedding planning since September 2009.
I enjoy social events and travelling.
As a wedding and Events planner I want to help people make there day as special as mine is going to be. I want to be able to offer this service without breaking the bank. I will be as flexible as I can with their schedules and I will make sure it has that personal touch that you're not just hiring a company you are hiring a new friend as well. I will be on call for all emergencies and I will be there to help the couple find what works best for them and their budget.
Services
Wedding & Event Planner Services

Bronze Package $450.00

Initial meeting
Budget work up
Supplier booklet options

Silver Package $750.00

Initial meeting
Budget work up
Supplier booklet options
Dealing with suppliers
Making bookings for the wedding
Follow up with the couple to make sure they are on budget


Gold Package - $1100.00

Initial meeting
Budget work up
Supplier booklet options
Dealing with suppliers
Making bookings for the wedding
Follow up with the couple to make sure they are on budget
Day of Services
Flowers delivered to Bride and Groom
Setting up wedding regestries
Seat chart


Platinum package-$1700.00

Initial meeting
Budget work up
Supplier booklet options
Dealing with suppliers
Making bookings for the wedding
Follow up with the couple to make sure they are on budget
Day of Services
Flowers delivered to Bride and Groom
Preparing all of the events prior to the wedding
Honeymoon preperations
Hotel bookings for day before the wedding (optional)