Domenica Reitano
event planner , wedding planner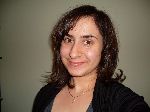 Ottawa, ON
613-614-5583
d.reitano@gmail.com
From I Love You to I Do-Planning your dream come true.
I'm the type of person that will strive to make your vision a reality. Weddings are the most romantic and intimate day of a person's life. It would be a pleasure to plan your wedding, to see you through this time, and to make your process a little less stressful. I will oversee all the details for you, ensuring that you enjoy your special day without worries. Organized, efficient, and romantic are three words that best describe me. Ever since I can remember I have loved weddings and it would bring me such joy to see your dreams realized.
I pride myself on being a person who only accepts the best, so i would only accept the best when planning your wedding. Leave your stresses with me, and enjoy your wedding planning process, and most importantly, your wedding day.

I have worked with many people with their event. Even though I am a fairly new wedding and events planner, I do have the experience. I have worked with many friends and families on their weddings and special events. I coordinate everything from corporate events to baby and bridal showers, and engagement parties to weddings. I work closely with my clients and ensure that their concept is achieved, but also within their budget. I have over ten years of customer service and management experience, and will bring only the best forth.

I draw upon my flair for fashion and creative talents to create extraordinary events with an amazing attention to detail. My love and passion is to give a great party and to bring people together to celebrate special moments which will last a lifetime, that is what brings me such joy. My commitment to create long lasting memories is the essence of what I do.
Services
Planning your special day is important to me. I understand that your wedding has one chance to make a impression and create memories to last a lifetime. I am here to ensure the overwhelming details, your visions, and budget are met. Put your faith in me, and I will ensure your visions and dreams are made a reality.

Specializing in: Weddings and event planning, multi-cultural, vow renewals, social and corporate events, baby showers, wedding showers, and engagement parties.

Planning is a passion of mine; let me plan your special day with you...

Wedding Packages:

Package #1- Full Service:
Planning every aspect of your day, from the ceremony to the reception to the honeymoon.

Package #2-Ceremony Only: For those who would only like my assistance to plan the ceremony, and would like to plan the reception on their own.

Package #3:
Build your only package.

Hourly consultations are also available.

Special Event Services includes:

*Planning and preparation
*Consultations
*Complete planning
*Day of coordinating services

ADDITIONAL SERVICES:

*Personalized Invitations
*Sinfully delicious desserts
*Custom Cakes

Contact me for further information on packages and pricing. I would like to meet with you, and from there your dreams will be realized.
Testimonials
Domenica Reitano is professional and efficient. Her attention to detail and enthusiasm is amazing. She made sure everything was perfect for the ceremony and reception. She helped me through the whole wedding process. She created our centerpieces and made special boxes wrapped in red bows with chocolate truffles as a thank you for all our guests. Domenica suggested amazing companies for my flowers, ceremony/reception venue, my bridesmaid dresses and my own gown. Working with her relieved pressure and she helped me enjoy the whole process. She is truly a great professional!
Ms. Pinn, Married January 9th, 2010
I consulted with Domenica Reitano when I was planning my wedding a few years ago. She aided me in choosing a wedding gown and bridesmaid dress. She has an amazing eye and great attention to detail. She even constructed my ring bearer pillow! She's a lovely person and a great wedding planner!
Ms. Ricciuti, Married October 29th, 2005