Nuria Lissette Rajo
event planner, wedding planner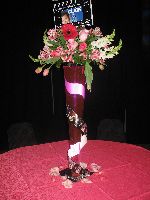 Toronto, ON
416-277-1631
nuria@boquinbaevents.com
Boquinba, was created to provide you with the highest quality of services, from finding you the perfect venue, floral arrangements to elegant decorations for any occasion.
We are able to work with a variety of budgets, we are committed to work with you every step of the way, for us all details are of importance.
Boquinba wedding & events is a family operated business providing exquisite services and products.
Services
Wedding & Event Consultants.
Floral arrangements, from high-style,traditional and elegant simplicity for all occasions.
Unique decoration ideas to enhance your wedding day, from a traditional ceremony to an elaborate reception.
Church decor, Synagogue set up.
Custom head table & backdrop.
Banquet hall facilities, Limo & Bus services.
DJ, Photography & Videographer, Tent Decor
Full delivery & set up for your Wedding or Event.