TJ Richards
event planner , wedding planner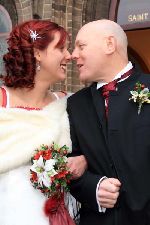 West Midlands
07722565717
occasionsbytj@talktalk.net
A Wedding Planner with Design and Craft Skills, a service offering more than just planning.
My Name is TJ I have been planning weddings for more than 10 years and thought I should have a qualification to reflect my skills and services. I take great pride in all my work, making sure that everything is covered and that, the event or wedding is everything that it should be - PERFECT! I will always go that extra mile to make sure that everything is, as it should be. You do not get any half measures with me, just complete dedication.
I am behind 'Occasions By TJ' who specialises in Wedding and Event Planning but also have a unique creative side. I am also a designer and talented craftsperson who can make many wedding accessories to your requirements and offer supporting services to ensure that whatever your special event is; it will certianly have that 'WOW' factor. I can make that individual designer tiara to compliment your gown, arrange silk flowers with a traditional or modern feel, wedding dresses that will compliment your look and personality. Whatever your needs I can accommodate, tailoring it all to you as an individual. My philosophy; Perfection from start to finish, ensuring that you are completely happy and surprised. I am very approachable, but work hard. Always looking for the best option and 'thinking outside the box'
Services
Wedding Planning and Consultation. Will help you at any stage of your wedding; from the very start and cover everything or little errands to keep everything running smoothly.
Event Planning; to promote the best of any company in a unique and memorable way.
Designer of wedding accessories; creating a unique, designer look just for you. I personally design tiaras, fascinators, bridal flowers, wedding gowns, bridesmaids, hair accessories, balloon arrangements, venue design, decoration and planning. Whatever the need I will be there to help.
An expert in reducing stress, taking the pressure of you and making you smile!
Testimonials
Perfect, superb and fantastic. TJ is not only a Mary Poppins in real life but one of the most talented I have ever met. My wedding was perfect. Not only was her skills in planning second to none her skills in creating my perfect wedding accessories was out of this world. TJ managed to hit every spot not only what I wanted for my wedding but as a person. To be able to understand an individual and completely empathise with needs, wants and desires is an absolute gift. If you want a wedding planner that ticks all the boxes and more then TJ is definitely the person to have. Highly recommended to anyone in the world. I will certainly be hiring her again for any big event that I have in the future.
Vicky Meeley
I got married 2 years ago, started planning it all but got so stressed that I just didn't know which way to turn. I wanted my day to the best ever but just didn't know what I had to do to get that effect and my budget certainly didn't help. TJ was like a angel! Not only did she pull all my plans together without a problem, got everything and everybody on track, she also gave me advice about my day, what I should wear and all the accessories. I never realised that a dream wedding could be achieved on such a tight budget. TJ is a God send. She covers every eventuality (including rain) and still manages to pull a surprise out her bag! Not only does her experience and skill show with her superb accessories and planning but she certainly knows how to treat a stressed out bride and making her world perfect again, and she seems to do all of this effortlessly. Just wish all brides knew her, she is the icing on the cake!
Amanda Knowles
A different aspect to a wedding - I was the Mother of the Bride for Amanda Knowles. And not only was my little girl's dreams turned into a reality but I wanted to write this letter to Thank TJ for her remarkable skills in turning a nightmare into one of the best weddings I have ever been too. I wanted people to know a different perspective to a wedding. I thought that a Wedding Planning did not include people like me - how wrong was I? TJ took care of Amanda like a Guardian Angel, covering everything from her Tiara to tying the balloons for the venue. TJ's creative and amazing thinking ensured that Amanda's wedding was everything she was hoping her for and still saved her money. How this was ever done I will never know and I don't want to guess either! Regarding me - well she hit the nail on the head. She helped me with supporting Amanda, my beautiful outfit and my hair accessory. She even convinced my husband to wear smart shoes and not trainers - a miracle in itslef! How does one person know how to put a wedding together and still maintain harmony in a family. A wonderful, clever and exceptionally kind person....TJ is a must with any wedding.
Angela Broadhurst
See All Testimonials