Events on Wheels
Elsie Ofulue
event planner, wedding planner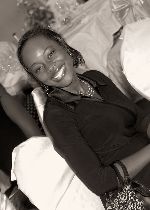 London/ Essex
07950539317
elsieofulue@yahoo.com
Taking you to the place of happy ever after.
I am your happy ever after event planner who is ever ready to take the burden off my clients.

My team and I are very passionate about what we do so you don't need to worry about a thing.

We are called 'Event on Wheels' for we are always ready to take that stress away, bringing you to the world of happy ever after.
I am a graduate of English Language and Literature who has had a background in marketing communications and event management.

My team and I have been trained at the QC School of Wedding Planning and have also attained an IEWP (International Event and Wedding Planning Professional) certification. We are members of the ISES UK Chapter (International Special Events Society) and ABC (Association of Bridal Consultants).

With a realisation on how passionate and excited we are before, during and after an event hence the decision to start up a company with a view to harnessing our hobbies and skills in making clients happy.

Event on Wheels has been privileged to be a part, plan and share the joy of several couples and families on their special day.

Your happiness is indeed our satisfaction and so all we are about is rendering that service that will keep you coming back for more!
Services
Event on Wheels renders services ranging from :

1. Wedding Consulting
2. Wedding Planning and co-ordination
2. Event consulting
3. Event management.

Our events include and not limited to :
Birthday parties


Holiday Parties
Corporate functions
Anniversaries
Social gatherings
Themed parties
Grand openings
Product launches
Business seminars
Summer outings
Meetings
Conferences.



We are open to consultations, part and full event servicing and management. We are also not restricted to London and United Kingdom as our business extends to Nigeria in the continent of Africa.

Whatever the case we are ever ready!!
Testimonials
Wow! Thank you Elsie. Having 'Event on Wheels' co-ordinate my wedding was really a big relief. My husband and I still wonder what would have happened if you didn't take over. xx
Tyna Chyke
Thank you for helping Plan my mum's 50th birthday surprise party. Looking forward to the surprise you are also planning for my brother's birthday. You indeed take us to a world of happy ever after.
Iphy
What can i say? My Bridal shower was so wonderful that I am still basking in the euphoria of it. Thanks Elsie, i am looking forward to my wedding more than ever and you can bet i will be back to leave a comment. xx
Nelly
See All Testimonials