Xavier Moody
event planner , wedding planner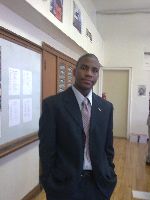 Chicago, IL
773-937-9745
xvr_moody@yahoo.com
Very creative and have many ideas on how to make any event Phenomenal so if your interested in having your guest talk about how nice your pa
Hi My Name Xavier Moody i recently started my own business for wedding & Event planning it is called Vance Ultimate Event Planning. I just Graduated From High School with a year of experience for planning events. im very creative and have many ideas on how to make any event Phenomenal so if your intrested in having your guest talk about how nice your party,wedding,or meeting,ect was. please feel free to contact me at xvr_moody@yahoo.com thanks and have a nice day.
The experiences that i have had where Planning A Prom Downtown at the Wyndham Chicago Hotel, and planning a meeting for Chicago Academy High School for parents and staff. I Have planned a White And Black Affair that was held at the fountain blue des plaines.
Services
optional based on contract.