John Nordquist
event planner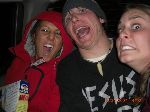 Gunnison, CO
719-688-3119
john.nordquist@western,edu
If you want to know where the party's at... call me.
Planning the parties that you don't forget and the ones you can't remember.
Hey my name is John. I just graduated CBC in St. Petersburg, Russia and am currently enrolled in Western State University in Gunnison. I am a Business Administration major with an interest in management and marketing.