Stephanie Oliver
event planner , wedding planner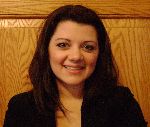 Butler, PA
724-496-1472
stephanie.oliver03@yahoo.com
My ultimate goal is to execute precisely planned events that leave everyone in attendance basking in the glow of a perfect celebration.
I believe life should be celebrated whenever possible and however imagined. I believe dreams are just future realities waiting to take shape. I believe a room is decorated most beautifully when it's filled with love. Being an event planner isn't just a career for me, it's an honor. I get to be a catalyst for celebrating family, friends, life and love. Whether my clients are donning satin couture gowns or cardboard cone party hats, I never forget that an event is more than just great food and pretty decorations. It's about giving my clients the chance to let their hair down, kick up their heels and just celebrate being alive!
A Little More About Me

I grew up in Butler, Pennsylvania as an oldest daughter, big sister, passionate singer, marching band flutist and food enthusiast. In May of 2009, I graduated from Mercyhurst College, in Erie, PA, with a Bachelor of Arts degree in Communication. My concentration was in public relations and I took a minor in marketing. Recently, I obtained my International Wedding and Event Planner certification through the QC School of Events, and couldn't be happier!

Though I'm new to the field, I've gained experience in event planning throughout my entire life. I come from a very large extended family, so every holiday gathering is a great event. Helping my parents throw Christmas, Halloween and New Year's Eve parties has been a hobby since I can remember. In college, I gained further experience by taking leadership roles that allowed me to do as much event planning as possible. My junior and senior year at Mercyhurst, I organized campus-wide talent shows, that collectively raised more than $3,500 for charity. In addition, I helped plan a Christmas/Thanksgiving dinner for about 50 people, organized holiday get-togethers for the entire Communication Department and interned with the event coordinator of Hamot Medical Center in Erie, PA. Since graduation, I've continued to plan family gatherings, and have taken on the event planner role for friends' weddings and bridal showers.

Though my experience is limited, my passion for event planning is endless. Nothing satisfies me more than bringing joy to others, and since being an event planner allows me to do so; I know I've found my calling. Helping to personify your wildest dreams in your next event will be my dream come true!
Services
Types of Events:
-Weddings
-Bridal Showers
-Bachelor/Bachelorette Parties
-Birthday Parties
-Retirement Parties
-Holiday Parties
-Funerals/Wakes
-Bar/Bat Mitzvahs
-Anniversary Parties
-Baby Showers
-High School/College Graduations
-Fundraising Events
and anything else you can dream up!



Services Include:
-Consultations
-Full event coordination including unlimited phone/E-mail contact and complete designing of your wedding or event
-Direction of wedding rehearsal and/or ceremony
-Day-of-event Coordination
-Set-up/Tear-down of event
-RSVP Tracking
-Customized centerpiece design
-Honeymoon coordination
-Complete event design

Together, we can coordinate a package to meet all your event-planning needs! For a personalized quote, please feel free to contact me at Stephanie.oliver03@yahoo.com