Monique Hutcheson
event planner , wedding planner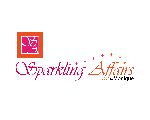 Raleigh, NC
919-264-8805
SA@eventplanningbymonique.com
Sparkling Affairs by Monique
Monique Hutcheson is a loving wife and mother with a passion for planning fabulous events!!! I come from a long family lineage of caters, wedding and event planners, bakers and designers. I literally have been working in the industry in one aspect or another, since the tender age of 8. Creatively, I enjoy interior decorating, planning parties and events, cooking and entertaining.
As an event planner with a creative eye for detail, I find great pleasure and fulfillment in creating truly "Sparkling Affairs". I offer a full range of services and I am happy to do as little or as much as you would like.
Monique is a graduate of Saint Augustine's College with a Bachelor of Science degree in Organizational Management. She holds a Masters of Science degree in Organizational Change and Leadership/MSL from Pfeiffer University. Additionally, Monique has been a licensed cosmetologist for 15 plus years as well as a referring travel agent(RTA)with the YTB travel network.
Services
Corporate Events
Weddings
Themed Parties/Galas
Retreats
Custom Designs
Honeymoons and Travel