MR VIBES
event planner , wedding planner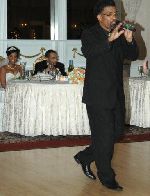 Maplewood, NJ
646-261-5042
eve@mrvibesentertainment.com
EVENTS BY VIBES ENTERTAINMENT COMPANY LLC EVENT & WEDDING PLANNING SERVICES.
EVENTS BY VIBES ENTERTAINMENT IS A INTERNATIONAL EVENT & WEDDING PLANNING PROFESSIONAL,SERVING THE TRI-STATE AREA AND BEYOND SINCE 1985.
• Orchestrated multiple labor crews for lighting, audio, visual, and special effects for 41 events. • Masterminded detailed project timelines to achieve critical milestones within allotted budget. • Collaborated daily with marketing departments and customers to maximize event's intended impact and audience's appeal as well as, confirm schedules, budgets, and labor requirements.• Coordinated all logistical and resource requirements for set-up, display, maintenance, and tear down of high visibility events which required extreme flexibility, creativity, and ingenuity.
Services
[EVENTS BY VIBES SERVICES]Whether you are planning an intimate gathering, a wedding celebration or a company function for up to 400 guests or more, allow us to assist you to make it a UNIQUE event that won't exceed your budget and create the memories for a lifetime!!!!!

[THEME AND DECORATION]
Floral, Carribbean, Beach, Hawaiian,and many more!

[CATERING COORDINATION]
We work with the top catering professionals in all areas. We will be happy to assist you in selection of the best one suited for your occasion.

[SITE SELECTION]
Outdoor venues, historic mansions, grand ballrooms, and unique spaces right for your group and event.
We will find the location that's the best fit for you!

[MUSIC AND ENTERTAINMENT]
Professional Disc Jockey and MC, with a diverse genre of music to cater to a multi-cultural audience. Our library includes jazz, gospel,mainstream radio, rhythm pop, rock, R & B,reggae, disco and all types of music to keep you dancing! Our professional MC's will entertain and keep your guests amused and keep them involved and excited throughout your evening!
Testimonials
I have worked with Orville for a short period of time and have found him to be detailed, professional and excellent in his work ethic. I would suggest to anyone who asked that if you want your event to be a success, call the team that will save you money and put your mind at ease by planning your event from start to finish, with little to no errors. I've seen Vibes Entertainment at work and they are the best. Any event I am planning, Mr. Vibes and Vibes Entertainment will be the team I hire for the job. Phil. R
I was so pleased and thrilled after hiring Vibes Entertainment for my function. The entire event went off witjout a hitch! Mr. Vibes was a class act and he stayed within my budget! Thank you so much Mr. Vibes! I would recommend Vibes for any event, they are worth every penny!! Heather Francis
Wow Orville, you really pulled this one off! My daughter has not stopped singing your praises. You managed to make an entire room full of 16 year olds happy!!! My husband and I are so appreciative of your company. Thank you for everything. Glenn and Jane Murphy