Victoria Woodbury
wedding planner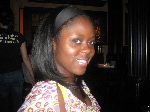 Columbus, OH
614-735-3713
allinadayweddings@gmail.com
Your absolute in wedding planning!
I'm a resourceful wedding planner who has your best interest at heart. I love to make things beautiful and to allow the flow of your big day to go smoothly. With All In A Day, Inc. You will not have to worry about anything. I can handle it all from the entire planning of your wedding or event to just simple day of direction. Whatever the case All In A Day will be there to make your event an unforgettable experience!
I hold a Bachelors of Arts Degree in Psychology from The Ohio State University. I am also working towards an IWPP ( International Wedding Planning Professional) designation from the QC School of Wedding Planning. I have been doing weddings since 2006 and I have done many weddings, each having their own unique theme and design. No two weddings are alike with me. I make it a point to bring out the uniqueness of each couple that I service.
Services
Please feel free to contact me for your FREE consultation!

Services are as follows:

Complete Wedding Planning Services (planning and organization, coordination of all vendors and services, direction and coordination at the rehearsal and on the day of the wedding)

Planning and Preparation Services (planning and organization, coordination of all vendors and services)

Direction of wedding rehearsal and wedding day events only

Specific Service and Vendor Coordination Services (assistance with the following wedding-related services and vendors)
Engagement announcement
Engagement party
Invitations and other printing
Guest list management and seating chart
Wedding gown and accessories
Bridesmaids' gown and accessories
Hair, makeup, and spa services
Groom's attire
Groomsmen's attire
Wedding rings
Ceremony venue
Ceremony music
Ceremony decorations
Reception venue
Reception catering
Reception music
Reception decorations/centerpieces
Wedding favors
Wedding cake
Flowers
Photography/Videography
Transportation
Rental items (tent, chairs, tables, linens, glassware, etc)
Accommodations for the bridal party and guests
Rehearsal dinner
Marriage license
Gift registry
Information on wedding customs and etiquette
Wedding announcement
Thank you cards
Honeymoon planning/travel information