Katrina Pickett
wedding planner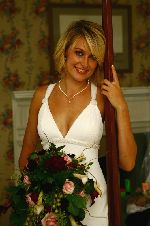 West Chester, Chester County, PA
814-360-0250
schmidt.katrina@gmail.com
Weddings out of the box, not out of the budget!
Whether you are tired of the same old "traditional-style" wedding, or are just interested in personalizing your event in a unique way, I am the girl for you!

I have worked in the food, hospitality, fashion, and wedding industries for nearly 10 years now and have seen countless weddings that could easily be forgotten. I promise to NOT let that happen to you! A wedding is an event that many people look forward to for their entire lives, so why not make it memorable!
Education:

I have a Bachelors in Hospitality Management from Penn State University, and was Valedictorian of my graduating class!

I have been certified in Culinary Arts from The Culinary Institute of America in Napa Valley, CA, and am well versed in all things food and wine!

Last but not least, I will soon be certified as an International Wedding Planning Professional by QC School of Wedding Planning in Ontario, Canada!



Wedding Planning Experience:

Last September I planned my own wedding for 150 people in under four months. I handled all the details myself, from the homemade invitations, to the hand calligraphy on the place cards, and even to doing most of the cooking! I figured if I could do all that in four months, and still be a relaxed, beautiful, bride walking down the aisle, then maybe I should go into wedding planning for a living!

Since then I have helped a few friends plan their weddings, and have enrolled and nearly completed my certification as an official Wedding Planning Professional. I am very excited to start my new career, and I guarantee that what I lack in experience, I will make up for in hard work and dedication to giving my clients the day of their dreams!
Services
I offer services for every part of the wedding planning process, depending on how much or how little you would like me to take off your hands!

Consultations: I charge a $100 fee for a 2 hour wedding consultation. I will listen to your criteria, theme ideas and budget needs and help you come up with suggestions and great vendors to contact. However, if you choose to book me for any further planning services, the consultation fee will be waived.

The Big Stuff: I will help you find and book vendors you love, who will help to make your wedding day a great success! The rest is in your court!

The Finer Things: I will not only help you find terrific vendors for your day, but will continue to help you with any and all possible details up to the day of the event!

The Whole She-bang! : With this package I will be with you every step of the way to take care of the details so you can relax and enjoy your event. From vendor selection, to the smaller details, to helping everything run smoothly on the actual wedding day, I will be there to take care of everything, so you don't have to worry about anything!

All services are charged at an hourly rate. An estimate proposal can be drawn up at your request.

Thank you for considering me to help make your event a memorable one!