Claire Stubley
event planner , wedding planner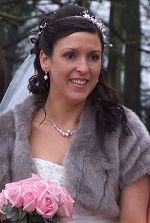 Shropshire
07891 686492
enquries@bellesweddingsandevents.co.uk
your event - perfectly planned by the professionals
Belles Weddings and Events is a small company based in the heart of Shropshire, managed by Claire Stubley specialising in Wedding and Event Planning across the Midlands.

Claire has many years experience working with people, is extremely organised and has a flair for creating and planning weddings and events.

She planned her own wedding in 2009, has supported several friends with the planning of their weddings since 2008 and now also in the process of becoming a certified wedding and event planner, Belles Weddings and Events can offer you all the support you need to plan your perfect wedding or event.
With many people now working longer hours and enjoying a busy social life, Claire knows from previous experience that it can be difficult to find the time to organise your wedding or plan a surprise birthday party for a loved one.

At Belles Weddings and Events we understand how important these events are particularly your wedding day and it can sometimes be hard to know where you begin with the planning process. Belles Weddings and Events can help and support you as little or as much as your like, allowing you time to relax and look forward to your forthcoming wedding or event.

We are focused on providing a high quality service and customer satisfaction - and will do everything possible to ensure we meet your expectations.
Services
Wedding Planning Services

Belles Weddings and Events can offer a range of bespoke wedding planning services to suit all your requirements:

Some of our standard services include:

Wedding Planning Guide

Finishing Touches

On the Day Wedding Co-ordination

Supplier Sourcing

Full Wedding Planning


Wedding Planning Guide

Do you want to plan your own wedding but have not got a clue where you should start or feel that you are just not very organised? then a wedding planning guide would be the perfect choice for you.


Finishing Touches

This service is ideal for couples who have planned their own wedding but want to spend the final weeks relaxing and looking forward to their special day.

The final weeks and days leading up to your wedding can be the most stressful, confirming bookings, agreeing times for suppliers to arrive, ensuring that everyone knows where they need to be and when.


Wedding Day Co-ordination

This service is ideal for couples who have planned their own wedding but want peace
of mind that they can relax and enjoy their day knowing that everything will be taken care of.


Supplier Sourcing

If you need a little help with certain aspects of your wedding i.e sourcing venue's, arranging viewings, finding the best photographer or florist.

Whatever service you need Belles can be on hand to support you.


Full Wedding Planning

The ultimate wedding planning service.

For those couples who have a demanding job or busy social life and do not have 250 hours spare to plan their dream wedding - a full bespoke wedding planning service is the choice for you!

Payment Terms

Our payment terms can be amended and altered to suit your individual circumstances, however our standard terms for our standard services with the exception of the wedding planning guide would normally be:

* 25% deposit at time of booking your required service/s

* 50% of total costs to be paid within 6-10 weeks of your wedding date

* remaining balance due 2 weeks before wedding date

Following your initial consultation we will always provide you with a full written proposal and breakdown of your chosen services or the services we feel would best suit your wedding planning requirements.

Belles will only consider you as a confirmed booking once we have received your signed proposal with your 25% deposit (unless otherwise agreed).

Payments can be made via cheque or direct into account.