Anuradha Trisal
event planner , wedding planner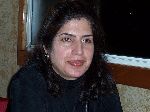 Pittsburgh, PA
724-822-5545
atrisal@gmail.com
When your event requires just the right touch, call "'AnuPlanner". From local events to corporate affairs, let "AnuPlanner" plan it because
Let me be your professional planner. With my event and wedding planning expertise you can sit back, relax and let me do the thinking, planning and coordinating.

I underwent an extensive training program at the QC Event Planning School and received an IEWP Diploma (International Event and Wedding Professional). I have also helped coordinate parties with a well known caterer in town, which has given me the chance to develop contacts with vendors and venue personals.

My passion for event planning stems from the annual parties I organized at my own home. My increased experience has allowed me to translate my passion into my everyday work.
I will treat your party as my own and you will be happy to have chosen me. I can assure you that I will take your goals into careful consideration and work with you to create an event that exceeds your expectations. You are just a phone call away from me. So take a big sigh of relief, pick up the phone and call 724-822-5545. I look forward to hearing from you.

Email : atrisal@gmail.com
Services
Deciding to hire an event planner is a big decision for everyone. You want to make sure you spend your budgeted dollars wisely. Will an event planner be affordable? Will the cost be worth it? Our event planning services are your answer.

Your event/wedding day is a special time. A joining of families, friends and individuals. You are creating your own history. Our team believes that your event should be a reflection of your own personal style and statement of love. Our services are designed to benefit each and every event, each and every time.

You are no longer limited to three or four standard packages from which to choose. Since every event/wedding is unique, we believe that you should not have to pick a package. We make it possible for you to choose which services are best suited for your needs and your budget. This is just another way that the AnuPlanner team understands your needs.

Our floral decor and design is sure to inspire you. We can bring your vision to life without breaking your budget. Just need a few tables and chairs with linens? We will arrange everything from our Unique Event Rental vendors! We hope to make a lasting impact on a special time in your life.
Testimonials
Vinny Q: Working with you has been such a joy! You were by far the best decision I made. You brought so much creativity and added so many wonderful touches.
Rekha: We just wanted to thank you for helping us throw the best party ever! Your creativity, enthusiasm, and patience all combined to make you the ideal party planner.
Jacinta: I just wanted to write to thank you so very much for our perfect wedding. We had such a great time and know all of our guests did, as well. Everything went so smoothly, and we couldn't have asked for a more wonderful weekend, weather-wise. I don't know how that happened, but it made for a fantastic party! Thank you so much, again, for all of your hard work and for helping us plan our wedding. We really couldn't have done it without you.