Zoe Dagnell
wedding planner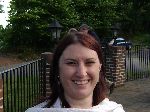 York
07545 951283
zoe.dagnell@gmail.com
Helping to make your Wedding Day perfect
Hi. My name is Zoe. I am an experienced Events Organiser working in the Yorkshire area, here to make your big day unforgettable.

Visionary and creative, I am here to ensure that your day is everything you have imagined.
Over the past 7 years I have gained extensive experience in organising and delivery events ranging from corporate balls to elegant parties.

Working to all levels of budgets, I am able to provide a perfect, co-ordinated event that will create perfect memories for years to come.
Services
I offer a full Wedding Planning service which is tailored to individual Client needs. Please contact me for a free consultation.