Simonette Sehindemi
event planner , wedding planner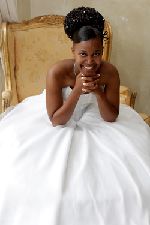 Enfield, London
07506607974
info@questaweddings.co.uk
Questa Weddings is a creative design and management company specialising in weddings and events.

Each wedding is matchless filled with elegance, beauty and the personal flair of our clients.

We offer various packages to suit the budgets and requirements of our clients.



* We advise, manage and co-ordinate ensuring that our clients are at the centre of all decisions.

* Clients receive on-going advice and consultation

* Our clients are consulted regarding all budgets, arrangements and meetings, ensuring that you are involved in every stage of the planning process, without feeling the pressures.

* Together w
Questa Professional Wedding Planners are a London based wedding planning and consultancy service providing a modern and elegant custom service.

Questa Wedding Consultancy was established by Simonette Sehindemi who has been organising events for over 8 years. Simonette has a passion for creating, developing and seeing her handy work flourish before her eyes. Simonette studied as a wedding planner and has put all her experience into creating Questa Wedding Consultancy - Weddings fit for a Queen.
Services
Our typical Questa packages are set out below, however, if you require something specific or more of a bespoke nature, tailored to your specific needs then please email us at: info@questaweddings.co.uk to discuss further.

Full Package (Diamond)
This is known to our clients as the (Diamond) package which we have specifically designed for our clients who lead extremely busy lifestyles who therefore lack the time, or perhaps require the support and assistance through design, planning and management processes. Our Full package is also for those who desire to enjoy the steps of going through the planning process, knowing that everything from start to finish will be taken care of by planners of experience and of expertise.

This package will include:

• Initial consultation –
We will arrange this meeting at a time and place most convenient to you. In this meeting we will gather your likes, dislikes, get an understanding of your personality, and flair. This to us is very important as it enables us to make your wedding unique and matchless. We will also discuss budget, venues, legalities, ideas, styling, etiquettes etc;

• Creative Design –
We can assist you in creating something fresh and innovative filled with inspiration and personality. Your design can flow from your engagement party right through to your wedding reception décor. We will provide examples, photos and samples to help you create something of an elegant and truly exclusive wedding concept.


• Time Line –
Following the initial consultation you will have on-going consultations and further advice. A Time line (a plan of action) will be devised for all to follow and you will be updated at regular intervals throughout the planning process.


• Budget Chart –
A breakdown of your budget will be given to you and updates of you budget management will be accessible at regular intervals. We will ensure that this is followed to your instruction and arrange for the payment of supplier invoices on time.


• On-going Support -
You will be supported and kept updated through phone calls, emails and meetings.


• Venue search –
Whether you want a country castle, an old manor house, a barn, marquee or your favourite local restaurant we will find it for you. We will prepare a shortlist based on your wishes and requirements. All appointments will be co-ordinated according to your availability and meeting confirmation details will be provided.

• Ceremony –
Advice and support will be given on the various types of ceremonies available and the legalities, which go hand in hand with each. Assistance with the finer details can also be provided such as the song choices, floristry, readings etc.


• Finding the best suppliers –
Out of our carefully selected tried and tested suppliers list we will source the supplier's best suited to your budget and requirements. Caterer's, florists, hairdressers, make-up artists etc. We will provide you with a shortlist showing the best options with what they offer and for what price (with photos or samples where appropriate) – allowing you to make an informed final decision. Once short listed all appointments and meetings will be co-ordinated according to your availability.

• Attire –
For "the bridal gown" and accessories we will locate the best shops/sources in your area as well as out of your area if need be. We will attend fittings if you wish and assist in finding the grooms and groomsmen's apparel. Help in finding the bridesmaids/flowergirls dresses and accessories will also be given.

• Stationery –
Once your unique wedding style has been decided we can assist in locating the best stationary that compliments this. We will co-ordinate the save the dates, invitations and RSVP's, prepare the table plans, menu's, order of the day, table numbers/names etc.


• Bridal Showers - Hen/stag parties –
We will assist in the arrangement of your hen/stag parties or weekends away, we will prepare a shortlist of ideas/best options in line with your requirements and budget. Once arranged we will co-ordinate and arrange any appointments or meetings if necessary.

• Honeymoon –
Once destination has been decided on we will co-ordinate bookings and arrange chauffer to and from airport.

On The Day Co-ordination -
We will be there on the day to co-ordinate and manage the event, suppliers and decoration. We will be there to support you and ensure that you are relaxed and enjoying the moment.

After Event Co-ordination -
We will co-ordinate all collection's of items from the venue, return any hired items to suppliers, ensure the return of deposits are meted and given back to you and send out thank you cards to your guests. We will also prepare any legal documents such as the change of name forms for passport/driving licence and inform banks and utility companies etc.

For this package we charge 15% of your overall budget with a minimum fee of £3000, depending on your requirements. Please CONTACT US for a more detailed quotation.

Almost There Package (Gold)
This package is for those who have already established the style and concept of their wedding and have a sound idea of how they want things to be, however, need some support in managing and co-ordinating the planning process. This could be during the last 6 months or the last 2 months before your wedding; we can join the planning process whenever to ensure that your plans run smoothly.

This package will include -

• An initial meeting to go through your ideas, style, plans so far, providing any last minute inspiration or examples. We will provide any help required with any final suppliers.
• A wedding day timetable will be prepared and given to the appropriate people.
• On-going support and advice, through phone calls, emails or meetings.
• We will arrange any final fittings for bride, groom, bridesmaids or flowergirls and any last minute appointments.
• We will ensure that all final payments are made on time to suppliers.
• We will contact and co-ordinate suppliers so that they are ahead of time and are fully prepared ensuring that everything runs smoothly on the day.
• On the day co-ordinating of event, suppliers and decoration.

For this package we charge from £900. Please CONTACT US for a more detailed quotation.

On The Day Co-ordination (Silver)
This package is for those who have organised and planned everything, however, feel they need some extra support and management of the wedding day.
Please email us at info@questaweddings.co.uk to discuss your requirements.

• We will meet you for a consultation and handover of plans, arrangements, list of suppliers etc. This will ideally take place at about a month before, however, if there's less time don't worry.
• We will discuss the schedule for the day and prepare a wedding day timetable and distribute to the appropriate people.
• We will co-ordinate the event, suppliers and decoration and ensure timetable is followed so that all plans run smoothly.
• We will be the main point of contact for anyone with queries.

For this package we charge from £450. Please email us at: info@questaweddings.co.uk for a more detailed quotation.


Individual Custom Service
Questa Weddings offer a range of individual services. If you require a specific service then please contact us.
Our individual services are:

Bridal Showers ( Hen/Stag nights/Weekends Away)
Bridal Gown selection
Bridal accessories
Bridesmaid/flowergirl dress selection
Hair & Make up styling
Wedding Stationary
Venue Search
Venue Decoration
Photographer Search
Catering Search
Videography Search
Music / Entertainment search
Guest Accommodation
Children's crèche & Entertainment
Floristry Design search
Wedding Favours
Transportation
Rehearsal Dinners
Budget Planning
Bridal Consultancy
Guest list Management & RSVP
Props & rentals
Security
Bridal register
Honeymoon Destination Search
Weightloss, Nutrition & Fitness Programme

The cost of this will obviously depend on what is required, however, prices for this service begin from £80. All packages can be tailored to your budget and individual requirements.

Please contact us to discuss your requirements and for a detailed quotation.
Testimonials
Questa Wedding Consultancy made our day the best that it could have ever have been. They worked so hard to make us happy. We were stress free - totally. Thank You to all at Questa Wedding Consultancy.
Mr and Mrs Abayomi