Yolanta Marer
wedding planner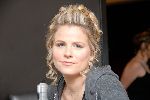 Richmond Hill, ON
yola@envisionplanning.ca
Planning Perfected!
Congratulations you're ENGAGED!
Isn't it great! Getting engaged is one of the most important and most dreamt about time in a woman's life next to the wedding. It is a new chapter to look forward to, a chapter that contains love, happiness, and the obvious stress, but a great experience over all.

Planning a wedding consists of four main components: lots of time, budgeting, details, and time management. Just as a relationship, planning a wedding is hard work and a lot of commitment.
Wedding planners are a great tool to have by your side as they help you along with planning every detail, and make sure things are running smoothly through the course of the wedding. They will be your best friend, an advisor, and help make your dreams become reality.

Hello my name is Yola, I am new to the wedding planning career, however come with experience. Before starting the wedding planning course, I have planned three wedding, and have enjoyed every minute of it which has resulted in a career change from Interior Design to planning weddings and events!
Being in the Interior Design field I have gained a lot of great skills; some of these being: Time management, attention to detail, organization, problem solving, communication skills, listening to the client's needs and wants, working alone and in a team, and definitely creativity. I believe this is what sets me aside from other wedding planners.
What my promise is to you

-Time- I will listen to you, and talk to you, and give you all time you need.

-Enthusiasm – Believe it or not I am just as excited about your wedding as you are.

-Professionalism- Even though I find planning wedding's and events absolutely fun, I will also be the professional you need.

-Organization- I will do what it takes to make sure you wedding or event is as organized as I can make it, no detail will be left unturned.

-Just there- I will be there as a friend, to listen to your problem and give you my professional advise.

-Knowledge- Schooling is a great tool to have, but working in the field has taught me what wedding planning really is, I should know all your answers and if I don't I will never leave you lost, I will find the answer for you.
Services
A Fabulous Wedding Awaits You

Our goal you the wedding you have always dreamed of. A wedding that reflects your unique personality and style. A wedding that you and your guests will never forget.

Stress free wedding planning begins here and now

Your engagement is a special time that you should enjoy to the fullest. Dont spend it stressing out about your wedding details; let us do that for you. We'll discuss all your idea in detail, then design a plan with a variety of options for you to consider. When you give us the go-ahead, we'll make it all happen, keeping you updated regularly, of course. You can just sit back, and sample cakes, taste champagne, and smile.

Our prices are very affordable

With our extensive industry experience and contacts, we are uniquely positioned to create your memorable day for much less, then you might expect. We'll manage your entire wedding- or just certain elements of it. It's up to you; after all it is your day.

We provide services that will keep your wedding on track, on time, and on budget. Some of these services include; Timelines ,Wedding day itinerary, Rehearsal coordination, Wedding day coordination, Vendor confirmation, Payment details, Wedding stationary, invitations, and announcements, Venue research, Photographer/videographer, Celebrant, Ceremony and reception music, Caterer, Food and beverage consulting ,Rentals, Flowers and décor consulting ,Wedding favors and gifts ,Bridal / bridal party attire ,Hair and makeup, Grooms attire, Transportation ,Accommodations and welcome package for out of town guest ,Guest list Management ,Budget Management , Attend vendor meetings as required, subject to availability .

We will do our best to accommodate any other requests that you may have.



We offer the following package that have been carefully designed to suite your needs. We have a wide variety of packages that are affordable and ideal for every wedding. These packages are as follows:

Hourly rate

Consultation package

Consultation & wedding preparation package

Day or coordination package

Planning and preparation package

Complete wedding planning package

Custom wedding planning packages