Natalie Mercier
wedding planner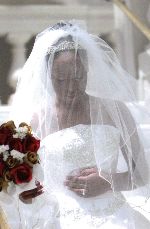 Laurel, MD
757-582-0277
nmercier08@yahoo.com
"We treat EVERY event like our own!"
Natalie Mercier has her bachelors degree in English with a minor in Psychology from Old Dominion University. She has been pursuing a career in wedding and event planning for about two years and has a real passion for it. Her dedication, strong mind and creativity presents itself in her slogan: "We treat EVERY event like our own!"
Weddings for me are joyous occasions. At the end the bride and groom should feel a sense of accomplishment and togetherness. Weddings are a time for the couple to build on their relationship and a journey to go together. I will do everything possible to ensure that these things are felt by the couple. I will work hard to make the day special for both the bride and groom. I would have done my job once the happy couple is leaving the wedding saying "Wow! That was fantastic!" Then and only then I would have done my job. I will present a knowledgeable approach to the world of weddings and insight that can't be beat.
Services
Planning and coordination of Weddings and Events, Birthdays, Sweet-Sixteens, Religious Events, Baby showers, and Corporate Events


**If you can dream it, I can plan it!"