Tanya Stene
wedding planner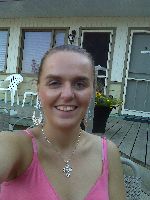 Saskatoon, SK
country.rock.girl@hotmail.com
A fun and relaxing with imagination of a wedding of your dreams

I'm a organized lady,and I always make lists of what I got to do throughout the day. Also found away to get everything done, that is suppose it be done of time I'm also a creativity person who figure out an idea that can work with what you want. I like to use my imagination to creative fun things. Able to put things together, that is beautiful with the idea I have and what you would want. As well I have positive attitude. There is always a way to get through things, just keep your head up
Right now I'm one of the head cashiers, where I would with a lot different types of customers. Also help out with account receivables and bank deposits. I
Education Background
Grade 12 - Wesmor High School - 2001
Entrepreneurship and Small Business - Siast - 2008
QC School of Wedding Planning - Currently taking


Experience
I've worked for my family business for 9 years as a bookkeeper and co owner.
Deal with clients over the phone or in person.
I've learnt a lot about small business.
I've also organized different family get tog ether's.
Just recently through my dad a surprise birthday party, worked out great
Like to do crafts and putting things together
Services
The services that I would offer is firstly to be a consultant where I will just give advise to you on how to get started. I would sit down with you and walk you through the planning process, if you don't need me to plan the wedding. I'm like a good friend that helps you out when needed.
My other service is to be the full wedding planner, where I will take care of everything the bride doesn't have time to do. I will deal with vendors, go to meeting, and put my creativity to plan the wedding of your dreams.
As for my prices I will be posting it at a later date.